Vehicle data
Please note that for the specified vehicle data:
- the heights specified may vary as a result of:
- tires
- load
- condition of the suspension - optional equipment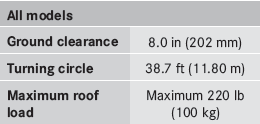 See also:
Qualified specialist workshop
An authorized Mercedes-Benz Center is a qualified specialist workshop. It has the necessary specialist knowledge, tools and qualifications to correctly carry out the work required on your vehicle. ...
Problems with your vehicle
If you should experience a problem with your vehicle, particularly one that you believe may affect its safe operation, we urge you to contact an authorized Mercedes-Benz Center immediately to have ...