Vehicle data
Please note that for the specified vehicle data:
- the heights specified may vary as a result of:
- tires
- load
- condition of the suspension - optional equipment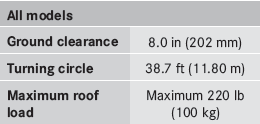 See also:
Rotating the wheels
WARNING Interchanging the front and rear wheels may severely impair the driving characteristics if the wheels or tires have different dimensions. The wheel brakes or suspension components may a ...
Product information
Mercedes-Benz recommends that you use genuine Mercedes-Benz parts, conversion parts and accessories that have been approved for the type of vehicle. Mercedes-Benz tests genuine parts as well as c ...
Information for customers in California
In California, you have the right to exchange a vehicle or receive a refund of the purchase or leasing price if Mercedes-Benz USA, LLC and/or an authorized workshop or maintenance facility cannot ...