Cockpit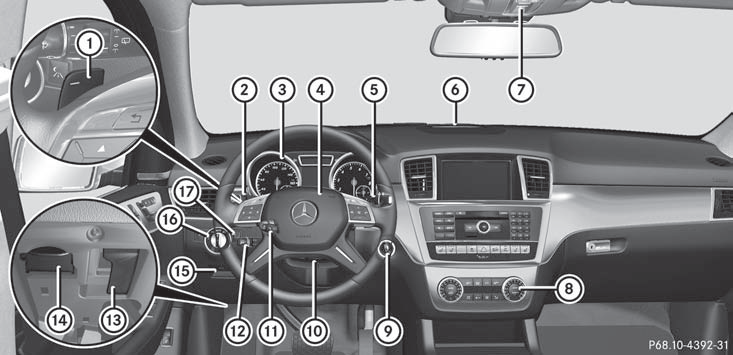 1 Steering wheel paddle shifters 2 Combination switch
3 Instrument cluster
4 Horn
5 DIRECT SELECT lever
6 PARKTRONIC warning display 7 Overhead control panel 8 Climate control systems 9 Ignition lock
Start/Stop button
10 Adjusts the steering wheel manually 11 Adjusts the steering wheel electrically Steering wheel heating
12 Cruise control lever
13 Opens the hood
14 On-board diagnostic interface 15 Electric parking brake 16 Light switch
17 Night View Assist Plus
See also:
Cup holders
Important safety notes WARNING In order to help prevent spilling liquids on vehicle occupants and/or vehicle equipment, only use containers that fit into the cup holder. Use lids on open containe ...
Coolant
Important safety notes WARNING Antifreeze is highly flammable. Fire, open flames and smoking are prohibited when handling antifreeze. If antifreeze comes into contact with hot engine parts, it ...
Removing the ball coupling
X Remove the spring cotter. ■ Remove the bolt from the ball coupling recess. ■ Remove the ball coupling from the ball coupling recess. ■ Clean the ball coupling if it is dirty. ...