Keyless-go
General notes
Bear in mind that the engine can be started by any of the vehicle occupants if there is a KEYLESS-GO key in the vehicle.
Locking/unlocking centrally
You can start, lock or unlock the vehicle using KEYLESS-GO. To do this, you only need carry the SmartKey with you. You can combine the functions of KEYLESS-GO with those of a conventional SmartKey. Unlock the vehicle by using KEYLESS-GO, for instance, and lock it using the

button on the SmartKey.
When locking or unlocking with KEYLESS-GO, the distance between the SmartKey and the corresponding door handle must not be greater than 3 ft (1 m).
KEYLESS-GO checks whether a valid SmartKey is in the vehicle by periodically establishing a radio connection between the vehicle and the SmartKey. This happens: Х when the external door handles are touched
Х when starting the engine Х while the vehicle is in motion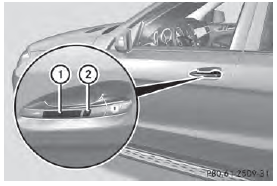 ■ To unlock the vehicle: touch the inner surface of the door handle.
■ To lock the vehicle: touch sensor surface 1.
■ Convenience closing feature: touch recessed sensor surface 2 for an extended period.
Further information on the convenience closing feature .
If you pull on the handle of the tailgate, only the cargo compartment of the vehicle is unlocked.
See also:
115 V socket
WARNING The 115 V AC power socket operates on high voltage. Use the 115 V AC power socket in the vehicle with the same caution and care that you would take with power sockets at home. Keep fluids ...
Floormats
WARNING Objects in the driver's footwell can restrict the pedal travel or obstruct a depressed pedal. The operating and road safety of the vehicle is jeopardized. There is a risk of an accident. ...
Fuel/water separator
Environmental note Dispose of service products in an environmentally responsible manner. If you continue driving without having the fuel/water separator serviced, this could cause damage to the e ...