Keyless-go
General notes
Bear in mind that the engine can be started by any of the vehicle occupants if there is a KEYLESS-GO key in the vehicle.
Locking/unlocking centrally
You can start, lock or unlock the vehicle using KEYLESS-GO. To do this, you only need carry the SmartKey with you. You can combine the functions of KEYLESS-GO with those of a conventional SmartKey. Unlock the vehicle by using KEYLESS-GO, for instance, and lock it using the

button on the SmartKey.
When locking or unlocking with KEYLESS-GO, the distance between the SmartKey and the corresponding door handle must not be greater than 3 ft (1 m).
KEYLESS-GO checks whether a valid SmartKey is in the vehicle by periodically establishing a radio connection between the vehicle and the SmartKey. This happens: Х when the external door handles are touched
Х when starting the engine Х while the vehicle is in motion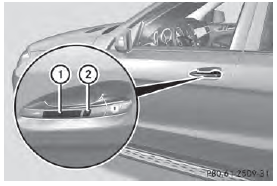 ■ To unlock the vehicle: touch the inner surface of the door handle.
■ To lock the vehicle: touch sensor surface 1.
■ Convenience closing feature: touch recessed sensor surface 2 for an extended period.
Further information on the convenience closing feature .
If you pull on the handle of the tailgate, only the cargo compartment of the vehicle is unlocked.
See also:
Service and literature
Your vehicle is covered under the terms of the warranties printed in the Service and Warranty Information booklet. Your authorized Mercedes-Benz Center will exchange or repair any defective parts ...
Correct driver's seat position
1 Steering wheel 2 Seat belts 3 Backrest ► Observe the safety guidelines on seat adjustment . ► Make sure that seat 3 is adjusted properly. Electrical seat adjustment Whe ...
Exterior lighting
General notes For reasons of safety, Mercedes-Benz recommends that you drive with the lights switched on even during the daytime. In some countries, operation of the headlamps varies due to legal ...