Keyless-go
General notes
Bear in mind that the engine can be started by any of the vehicle occupants if there is a KEYLESS-GO key in the vehicle.
Locking/unlocking centrally
You can start, lock or unlock the vehicle using KEYLESS-GO. To do this, you only need carry the SmartKey with you. You can combine the functions of KEYLESS-GO with those of a conventional SmartKey. Unlock the vehicle by using KEYLESS-GO, for instance, and lock it using the

button on the SmartKey.
When locking or unlocking with KEYLESS-GO, the distance between the SmartKey and the corresponding door handle must not be greater than 3 ft (1 m).
KEYLESS-GO checks whether a valid SmartKey is in the vehicle by periodically establishing a radio connection between the vehicle and the SmartKey. This happens: Х when the external door handles are touched
Х when starting the engine Х while the vehicle is in motion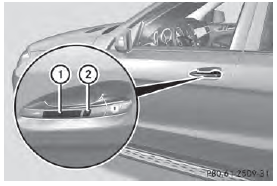 ■ To unlock the vehicle: touch the inner surface of the door handle.
■ To lock the vehicle: touch sensor surface 1.
■ Convenience closing feature: touch recessed sensor surface 2 for an extended period.
Further information on the convenience closing feature .
If you pull on the handle of the tailgate, only the cargo compartment of the vehicle is unlocked.
See also:
Useful information
This Operator's Manual describes all models and all standard and optional equipment of your vehicle available at the time of publication of the Operator's Manual. Country-specific differences ...
Direction of rotation
Tires with a specified direction of rotation have additional benefits, e.g. if there is a risk of hydroplaning. You will only gain these benefits if the correct direction of rotation is observed. ...
Engine oil
General notes Depending on the driving style, the vehicle consumes up to 0.9 US qts (0.8 l) of oil over a distance of 600 miles (1000 km). The oil consumption may be higher than this when the veh ...