Opening and closing the side windows
The switches for all side windows are located on the driver's door. There is also a switch on each door for the corresponding side window.
The switches on the driver's door take precedence.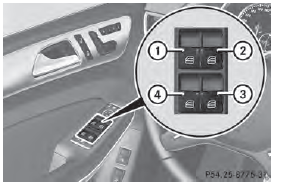 1 Front left
2 Front right
3 Rear right
4 Rear left
■ Turn the SmartKey to position 1 or 2 in the ignition lock.
■ To open: press the corresponding switch.
■ To close: pull the corresponding switch.
If you press the switch beyond the point of resistance, an automatic opening/ closing process is started in the corresponding direction. You can stop automatic operation by operating the switch again.
You can continue to operate the side windows after you switch off the engine or remove the SmartKey. This function is available for up to five minutes or until the driver's or front-passenger door is opened.
The side windows cannot be operated from the rear when the override feature for the side windows is activated .
See also:
Additional service products
Checking coolant level WARNING The engine cooling system is pressurized, particularly when the engine is warm. When opening the cap, you could be scalded by hot coolant spraying out. There is a r ...
Steering wheel
Important safety notes WARNING Do not adjust the steering wheel while driving. Adjusting the steering wheel while driving, or driving without the steering wheel adjustment feature locked could c ...
Towing in the event of malfunctions
General not If you are removing the propeller shaft, use M10 nuts as spacers on the M8 bolts and secure them with M8 nuts. New self-locking nuts must be used when the propeller shafts are refit ...