Opening and closing the hinged side windows
Important safety notes
WARNING
Make sure that nobody can become trapped as you close the hinged side windows. If there is a risk of somebody becoming trapped, release the switch or push the switch again to reopen the side window.
Opening/closing
The hinged side windows are operated electrically from the from the driver's seat.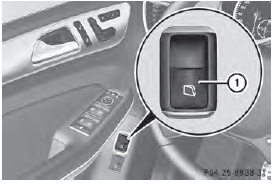 ■ Make sure that the SmartKey is in position 1 or 2 in the ignition lock.
■ To open fully: press switch 1 and release.
■ To close fully: pull switch 1 and release.
■ To stop the closing procedure: press switch 1 again.
Both hinged side windows open fully.
If the hinged side windows are blocked when closing, the closing procedure is interrupted and the hinged side windows open again fully.
See also:
Telephone menu
Introduction WARNING The driver's attention to the road must always be his/her primary focus when driving. For your safety and the safety of others, we recommend that you pull over to a safe loc ...
NECK-PRO head restraints
Important safety notes WARNING Do not secure any objects (e.g. coat hangers) on the NECK-PRO head restraints. Otherwise, the NECK-PRO head restraints may not function properly, or in the event of ...
Driving systems
...