Opening and closing the hinged side windows
Important safety notes
WARNING
Make sure that nobody can become trapped as you close the hinged side windows. If there is a risk of somebody becoming trapped, release the switch or push the switch again to reopen the side window.
Opening/closing
The hinged side windows are operated electrically from the from the driver's seat.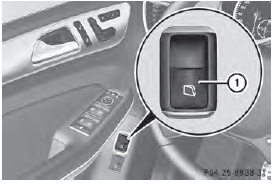 ■ Make sure that the SmartKey is in position 1 or 2 in the ignition lock.
■ To open fully: press switch 1 and release.
■ To close fully: pull switch 1 and release.
■ To stop the closing procedure: press switch 1 again.
Both hinged side windows open fully.
If the hinged side windows are blocked when closing, the closing procedure is interrupted and the hinged side windows open again fully.
See also:
Important safety notes
Special tools and expert knowledge are required when working on the battery, e.g. removal and installing. You should therefore have all work involving the battery carried out at a qualified spec ...
Important safety notes
New and replaced brake pads and discs only reach their optimum braking effect after several hundred kilometers of driving. Compensate for this by applying greater force to the brake pedal. ...
Useful information
This Operator's Manual describes all models and all standard and optional equipment of your vehicle available at the time of publication of the Operator's Manual. Country-specific differences are ...