Changing the rear bulbs
Opening and closing the service flap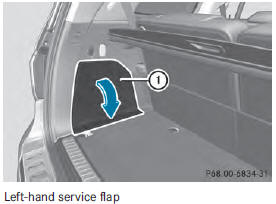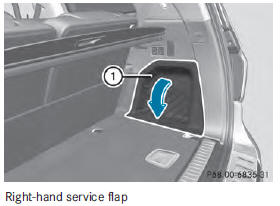 You must open the service flap in the cargo compartment before you can change the bulbs in the brake lamp.
■ To open: release service flap 1 at the top, e.g. with a screwdriver, and swing it downward in the direction of the arrow.
■ Right side: remove the first-aid kit beforehand and pull the parcel net down.
■ To close: reinsert service flap 1.
Brake lamp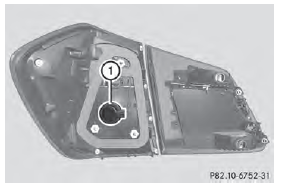 ■ Switch off the lights.
■ Open the cargo compartment.
■ Open the service flap .
■ Turn bulb holder 1 counter-clockwise and remove it.
■ Take bulb out of bulb holder 1.
■ Insert the new bulb into bulb holder 1.
■ Insert bulb holder 1 into the lamp and turn it clockwise.
■ Close the service flap .
See also:
Tire tread
WARNING Although the applicable federal motor vehicle safety laws consider a tire to be worn when the treadwear indicators (TWI) become visible at approximately 1/16 inches (1.6 mm), we recommend ...
Important safety notes
WARNING Modifications to or work improperly conducted on restraint system components or their wiring, as well as tampering with interconnected electronic systems, can lead to the restraint system ...
Regular checking of wheels and tires
WARNING Damaged tires can cause tire inflation pressure loss. As a result, you could lose control of your vehicle. There is a risk of accident. Check the tires regularly for signs of damage an ...