Changing the rear bulbs
Opening and closing the service flap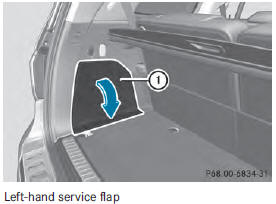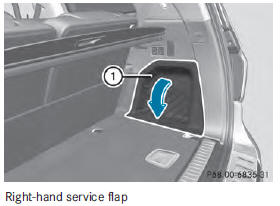 You must open the service flap in the cargo compartment before you can change the bulbs in the brake lamp.
■ To open: release service flap 1 at the top, e.g. with a screwdriver, and swing it downward in the direction of the arrow.
■ Right side: remove the first-aid kit beforehand and pull the parcel net down.
■ To close: reinsert service flap 1.
Brake lamp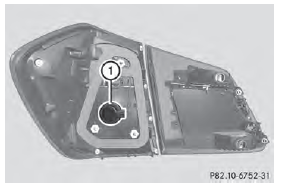 ■ Switch off the lights.
■ Open the cargo compartment.
■ Open the service flap .
■ Turn bulb holder 1 counter-clockwise and remove it.
■ Take bulb out of bulb holder 1.
■ Insert the new bulb into bulb holder 1.
■ Insert bulb holder 1 into the lamp and turn it clockwise.
■ Close the service flap .
See also:
Problems with the sliding sunroof
WARNING If you close the sliding sunroof again immediately after it has been blocked or reset, the sliding sunroof closes with increased or maximum force. The reversing feature is then not active. ...
Tires
GL 350 BlueTEC 4MATIC All-weather tires R 19 R 20 All-terrain tires R 18 R 19 Winter tires R 18 3 Use of snow chains not permitted. Observe the notes under "Snow chains". ...
Driving on wet roads
Do not drive through flooded areas. Check the depth of any water before driving through it. Drive slowly through standing water. Otherwise, water may enter the vehicle interior or the engine com ...