Control panel for dual-zone automatic climate control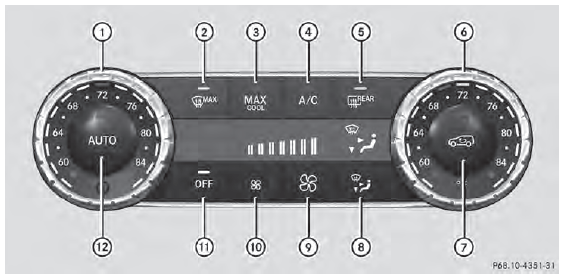 USA only
Front control panel
1 Sets the temperature, left 2 Defrosts the windshield 3 Switches maximum cooling on/off 4 Switches cooling with air dehumidification on/off 5 Switches the rear window defroster on/off 6 Sets the temperature, right 7 Activates/deactivates air-recirculation mode 8 Sets the air distribution 9 Increases the airflow 10 Reduces the airflow 11 Switches climate control on/off 12 Sets climate control to automatic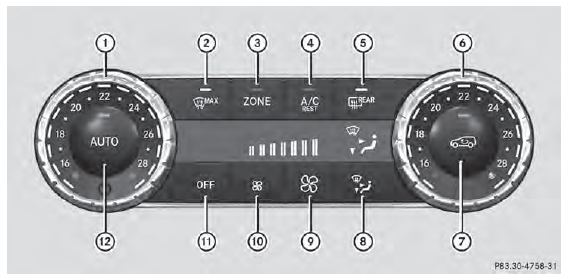 Canada only
Front control panel
1 Sets the temperature, left 2 Defrosts the windshield 3 Switches the ZONE function on/off 4 Activates/deactivates cooling with air dehumidification or activates/ deactivates the residual heating function 5 Switches the rear window defroster on/off 6 Sets the temperature, right 7 Activates/deactivates air-recirculation mode 8 Sets the air distribution 9 Increases the airflow 10 Reduces the airflow 11 Switches climate control on/off 12 Sets climate control to automatic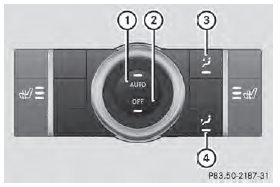 Rear control panel
1 Sets rear-compartment climate control to automatic 2 Switches rear-compartment climate control on/off 3 Directs the airflow through the rear air vents 4 Directs the airflow through the footwell vents
See also:
Important safety notes
WARNING Severe conditions (e.g. strong air pollution) may require replacement of the filter before its scheduled replacement interval. A clogged filter will reduce the air volume to the interior ...
Useful information
This Operator's Manual describes all models and all standard and optional equipment of your vehicle available at the time of publication of the Operator's Manual. Country-specific differences are ...
Important safety notes
WARNING Fuel is highly flammable. If you handle fuel incorrectly, there is a risk of fire and explosion. You must avoid fire, open flames, creating sparks and smoking. Switch off the engine an ...