Control panel for dual-zone automatic climate control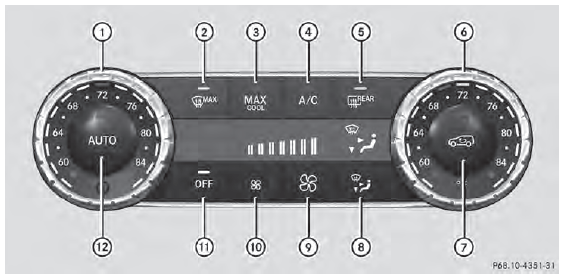 USA only
Front control panel
1 Sets the temperature, left 2 Defrosts the windshield 3 Switches maximum cooling on/off 4 Switches cooling with air dehumidification on/off 5 Switches the rear window defroster on/off 6 Sets the temperature, right 7 Activates/deactivates air-recirculation mode 8 Sets the air distribution 9 Increases the airflow 10 Reduces the airflow 11 Switches climate control on/off 12 Sets climate control to automatic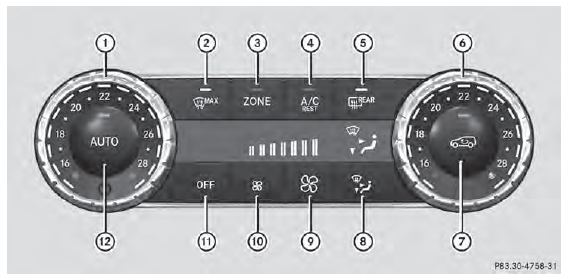 Canada only
Front control panel
1 Sets the temperature, left 2 Defrosts the windshield 3 Switches the ZONE function on/off 4 Activates/deactivates cooling with air dehumidification or activates/ deactivates the residual heating function 5 Switches the rear window defroster on/off 6 Sets the temperature, right 7 Activates/deactivates air-recirculation mode 8 Sets the air distribution 9 Increases the airflow 10 Reduces the airflow 11 Switches climate control on/off 12 Sets climate control to automatic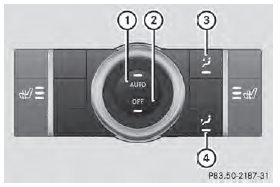 Rear control panel
1 Sets rear-compartment climate control to automatic 2 Switches rear-compartment climate control on/off 3 Directs the airflow through the rear air vents 4 Directs the airflow through the footwell vents
See also:
Transfer case
General notes The vehicle has permanent all-wheel drive. Power is always transmitted to both axles. For further information on driving off-road, see . Shift ranges WARNING If you do not wai ...
Parktronic
Important safety notes PARKTRONIC is an electronic parking aid with ultrasonic sensors. It indicates visually and audibly the distance between your vehicle and an object. PARKTRONIC is only an ...
Setting the airflow
X Turn the SmartKey to position 2 in the ignition lock. ► To increase: press the button. ► To reduce: press the button. The airflow from the rear-compartment vents and the c ...