Control panel for dual-zone automatic climate control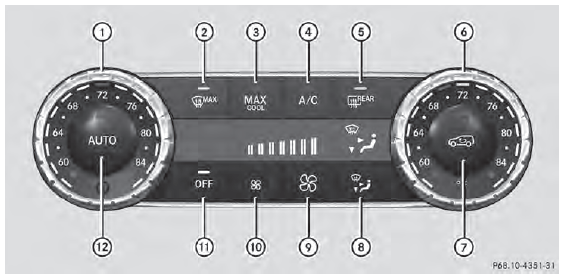 USA only
Front control panel
1 Sets the temperature, left 2 Defrosts the windshield 3 Switches maximum cooling on/off 4 Switches cooling with air dehumidification on/off 5 Switches the rear window defroster on/off 6 Sets the temperature, right 7 Activates/deactivates air-recirculation mode 8 Sets the air distribution 9 Increases the airflow 10 Reduces the airflow 11 Switches climate control on/off 12 Sets climate control to automatic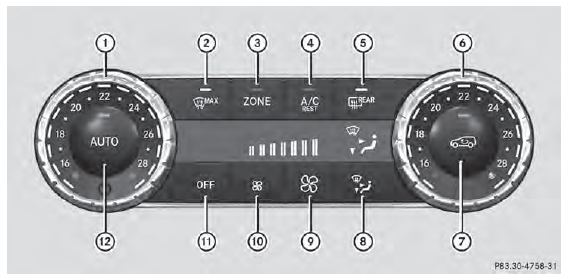 Canada only
Front control panel
1 Sets the temperature, left 2 Defrosts the windshield 3 Switches the ZONE function on/off 4 Activates/deactivates cooling with air dehumidification or activates/ deactivates the residual heating function 5 Switches the rear window defroster on/off 6 Sets the temperature, right 7 Activates/deactivates air-recirculation mode 8 Sets the air distribution 9 Increases the airflow 10 Reduces the airflow 11 Switches climate control on/off 12 Sets climate control to automatic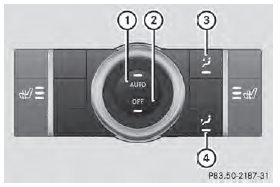 Rear control panel
1 Sets rear-compartment climate control to automatic 2 Switches rear-compartment climate control on/off 3 Directs the airflow through the rear air vents 4 Directs the airflow through the footwell vents
See also:
Important safety notes
WARNING If children are left unsupervised in the vehicle, they could: Х open the doors, thus endangering other people or road users. Х get out and disrupt traffic. Х operate the vehicle's equipm ...
Displaying the coolant temperature
WARNING Driving when your engine is overheated can cause some fluids which may have leaked into the engine compartment to catch fire. You could be seriously burned. Steam from an overheated eng ...
BAS (Brake Assist System)
Observe the "Important safety notes" section . WARNING If BAS is malfunctioning, the braking distance in an emergency braking situation is increased. There is a risk of an accident ...