Control panel for 3-zone automatic climate control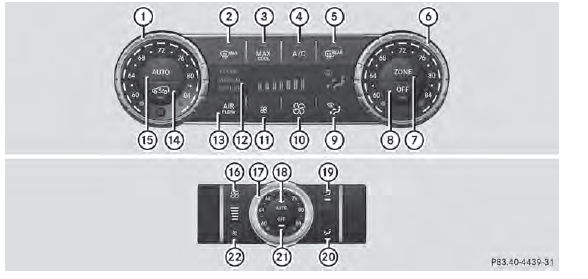 USA only
Front control panel
1 Sets the temperature, left 2 Defrosts the windshield 3 Switches maximum cooling on/off 4 Switches cooling with air dehumidification on/off 5 Switches the rear window defroster on/off 6 Sets the temperature, right 7 Switches the ZONE function on/off 8 Switches climate control on/off 9 Sets the air distribution 10 Increases the airflow 11 Reduces the airflow 12 Display
13 Adjusts the climate mode settings 14 Activates/deactivates air-recirculation mode 15 Sets climate control to automatic
Rear control panel
16 Increases the airflow 17 Sets the temperature 18 Sets rear-compartment climate control to automatic 19 Directs the airflow through the rear air vents 20 Directs the airflow through the footwell vents 21 Switches rear-compartment climate control on/off 22 Reduces the airflow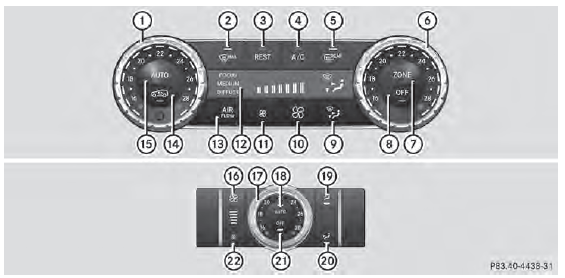 Canada only
Front control panel
1 Sets the temperature, left 2 Defrosts the windshield 3 Switches the residual heat function on/off 4 Switches cooling with air dehumidification on/off 5 Switches the rear window defroster on/off 6 Sets the temperature, right 7 Switches the ZONE function on/off 8 Switches climate control on/off 9 Sets the air distribution 10 Increases the airflow 11 Reduces the airflow 12 Display
13 Adjusts the climate mode settings 14 Activates/deactivates air-recirculation mode 15 Sets climate control to automatic
Rear control panel
16 Increases the airflow 17 Sets the temperature 18 Sets rear-compartment climate control to automatic 19 Directs the airflow through the rear air vents 20 Directs the airflow through the footwell vents 21 Switches rear-compartment climate control on/off 22 Reduces the airflow
See also:
Assistance menu
Introduction In the DriveAssist menu, you have the following options: Х showing the distance display Х activating/deactivating the distance warning function Х activating/deactiva ...
Setting climate control to automatic
WARNING If you switch off the cooling function, the vehicle will not be cooled when weather conditions are warm. The windows can fog up more quickly. Window fogging may impair visibility and enda ...
Seats
Important safety notes WARNING In order to avoid possible loss of vehicle control, all seat, head restraint, steering wheel and rear view mirror adjustments, as well as fastening of seat belts, ...