Control panel for 3-zone automatic climate control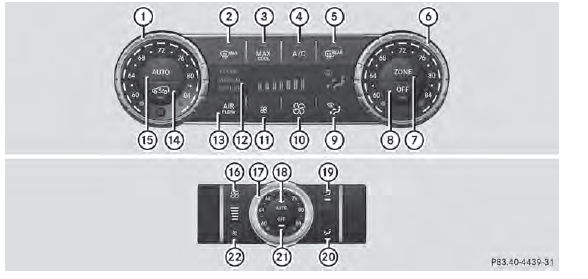 USA only
Front control panel
1 Sets the temperature, left 2 Defrosts the windshield 3 Switches maximum cooling on/off 4 Switches cooling with air dehumidification on/off 5 Switches the rear window defroster on/off 6 Sets the temperature, right 7 Switches the ZONE function on/off 8 Switches climate control on/off 9 Sets the air distribution 10 Increases the airflow 11 Reduces the airflow 12 Display
13 Adjusts the climate mode settings 14 Activates/deactivates air-recirculation mode 15 Sets climate control to automatic
Rear control panel
16 Increases the airflow 17 Sets the temperature 18 Sets rear-compartment climate control to automatic 19 Directs the airflow through the rear air vents 20 Directs the airflow through the footwell vents 21 Switches rear-compartment climate control on/off 22 Reduces the airflow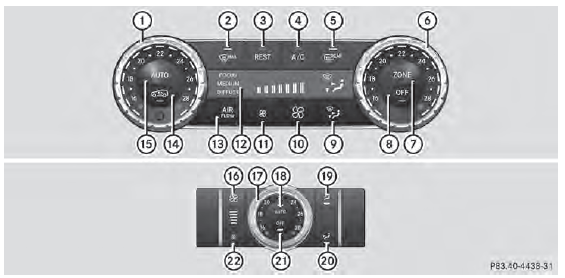 Canada only
Front control panel
1 Sets the temperature, left 2 Defrosts the windshield 3 Switches the residual heat function on/off 4 Switches cooling with air dehumidification on/off 5 Switches the rear window defroster on/off 6 Sets the temperature, right 7 Switches the ZONE function on/off 8 Switches climate control on/off 9 Sets the air distribution 10 Increases the airflow 11 Reduces the airflow 12 Display
13 Adjusts the climate mode settings 14 Activates/deactivates air-recirculation mode 15 Sets climate control to automatic
Rear control panel
16 Increases the airflow 17 Sets the temperature 18 Sets rear-compartment climate control to automatic 19 Directs the airflow through the rear air vents 20 Directs the airflow through the footwell vents 21 Switches rear-compartment climate control on/off 22 Reduces the airflow
See also:
Mirrors
Rear-view mirror Rear-view mirror (manual anti-glare) - anti-glare mode: flick anti-glare switch 1 forwards or back. Exterior mirrors Adjusting the exterior mirrors WARNING Exercise care whe ...
BAS (Brake Assist System)
Observe the "Important safety notes" section . WARNING If BAS is malfunctioning, the braking distance in an emergency braking situation is increased. There is a risk of an accident. ...
Rear fog lamp
1Left-hand standing lamps 2Right-hand standing lamps 3Parking lamps, side marker lamps, license plate and instrument cluster lighti 4Automatic headlamp mode/daytime running lamps 5Low-bea ...