Setting the air distribution
Air distribution settings
Front control panel

Directs the airflow through the
center vents

Directs air through the footwell
air vents
Directs the airflow through the
center and footwell vents

Directs air through the
defroster vents

Directs the airflow through the
defroster and center vents (Canada only)

Directs air through the
defroster and footwell vents

Directs the airflow through the
defroster, center and footwell air vents (Canada only)
Rear control panel

Directs the airflow through the
rear center and rear side air vents

Directs air through the footwell
air vents
Using the rear control panel, you can also activate both air distribution positions simultaneously. In order to do this, press both air distribution buttons. The air is then routed through all rear air vents.
Regardless of the air distribution setting, airflow is always directed through the side air vents. The side air vents can only be closed when the controls on the side air vents are turned downwards.
Adjusting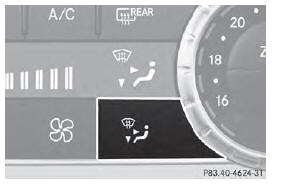 ■ Turn the SmartKey to position 2 in the ignition lock .
■ Press the

button repeatedly until
the desired symbol appears in the display.
See also:
Important safety notes
WARNING When leaving the vehicle, always remove the SmartKey from the ignition lock. Always take the SmartKey with you and lock the vehicle. Do not leave children unsupervised in the vehicle, e ...
Calling up a stored setting
If you want to move the seat from the fully reclined position to a stored seat position, first raise the backrest using the seat switch. The seat could otherwise be damaged. ► Press and h ...
Setting the airflow
■ Turn the SmartKey to position 2 in the ignition lock . ■ To increase: press the button. ■ To reduce: press the button. You can use 3-zone automatic climate control t ...