Setting the air distribution
Air distribution settings
Front control panel

Directs the airflow through the
center vents

Directs air through the footwell
air vents
Directs the airflow through the
center and footwell vents

Directs air through the
defroster vents

Directs the airflow through the
defroster and center vents (Canada only)

Directs air through the
defroster and footwell vents

Directs the airflow through the
defroster, center and footwell air vents (Canada only)
Rear control panel

Directs the airflow through the
rear center and rear side air vents

Directs air through the footwell
air vents
Using the rear control panel, you can also activate both air distribution positions simultaneously. In order to do this, press both air distribution buttons. The air is then routed through all rear air vents.
Regardless of the air distribution setting, airflow is always directed through the side air vents. The side air vents can only be closed when the controls on the side air vents are turned downwards.
Adjusting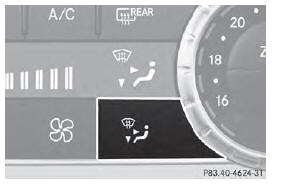 ■ Turn the SmartKey to position 2 in the ignition lock .
■ Press the

button repeatedly until
the desired symbol appears in the display.
See also:
Speedometer with segments
The segments in the speedometer indicate which speed range is available. R Cruise control activated : The segments light up from the stored speed to the maximum speed. R Variable SPEEDTRONIC ...
Qualified specialist workshop
An authorized Mercedes-Benz Center is a qualified specialist workshop. It has the necessary specialist knowledge, tools and qualifications to correctly carry out the work required on your vehicle. ...
Panic alarm
- To activate: press button 1 for at least one second. An alarm sounds and the exterior lighting flashes. - To deactivate: press button 1 again. or - Insert the SmartKey into the ignition ...