Program selector button
General notes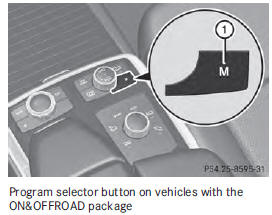 ■ Briefly press program selector button 1.
The letter M appears in the multifunction display. The manual drive program M is activated.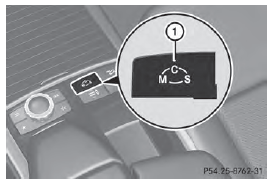 Program selector button on AMG vehicles
■ Press program selector button 1 repeatedly until the letter for the desired gearshift program appears in the multifunction display.
The program selector button allows you to choose between different driving characteristics.
AMG vehicles
: the automatic transmission switches to automatic drive program C each time the engine is started.
Drive program M is not saved after the engine has been switched off. If required, you must select the drive program again after starting the engine.
Drive programs on AMG vehicles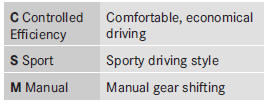 For further information on the automatic drive program, see .
Steering wheel paddle shifters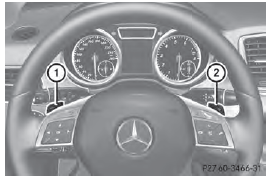 In the automatic drive program, you can restrict or derestrict the shift range by using steering wheel paddle shifters 1 and 2 .
In the manual drive program you can change gears manually using steering wheel paddle shifters 1 and 2 .
You can only change gear with the steering wheel paddle shifters when the transmission is in position D.
See also:
Important safety notes
Special tools and expert knowledge are required when working on the battery, e.g. removal and installing. You should therefore have all work involving the battery carried out at a qualified spec ...
EBD (electronic brake force distribution)
Observe the "Important safety notes" section . WARNING If EBD has malfunctioned, the rear wheels can still lock, e.g. under full braking. This increases the risk of skidding and an acci ...
Data stored in the vehicle
Information about electronic data acquisition in the vehicle (Including notice pursuant to California Code § 9951) Your vehicle records electronic data. If your vehicle is equipped with mbrace (C ...