Program selector button
General notes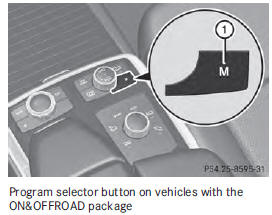 ■ Briefly press program selector button 1.
The letter M appears in the multifunction display. The manual drive program M is activated.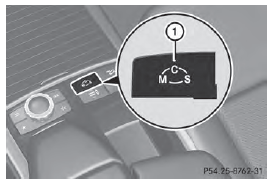 Program selector button on AMG vehicles
■ Press program selector button 1 repeatedly until the letter for the desired gearshift program appears in the multifunction display.
The program selector button allows you to choose between different driving characteristics.
AMG vehicles
: the automatic transmission switches to automatic drive program C each time the engine is started.
Drive program M is not saved after the engine has been switched off. If required, you must select the drive program again after starting the engine.
Drive programs on AMG vehicles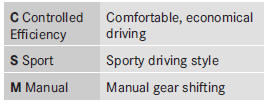 For further information on the automatic drive program, see .
Steering wheel paddle shifters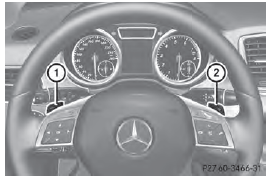 In the automatic drive program, you can restrict or derestrict the shift range by using steering wheel paddle shifters 1 and 2 .
In the manual drive program you can change gears manually using steering wheel paddle shifters 1 and 2 .
You can only change gear with the steering wheel paddle shifters when the transmission is in position D.
See also:
mbrace
Important safety notes You must have a license agreement to activate the mbrace service. Make sure that your system is activated and ready for use. To register, press the MB Info call button. I ...
Removing the emergency spare wheel
Emergency spare wheel (example: vehicle without lockable cargo compartment floor) 1 Emergency spare wheel retainer 2 Stowage well 3 "Minispare" emergency spare wheel The "Minispa ...
Important safety notes
New and replaced brake pads and discs only reach their optimum braking effect after several hundred kilometers of driving. Compensate for this by applying greater force to the brake pedal. ...