Refueling
Opening/closing the fuel filler flap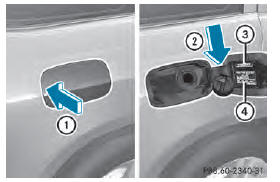 1 To open the fuel filler flap 2 To insert the fuel filler cap 3 Fuel type to be used
4 Tire pressure table
The fuel filler flap is unlocked or locked automatically when you open or close the vehicle with the SmartKey or with KEYLESSGO.
The position of the fuel filler cap is displayed

in the instrument cluster. The
arrow next to the filling pump indicates the side of the vehicle.
Opening
■ Switch the engine off.
■ Remove the SmartKey from the ignition lock.
■ KEYLESS-GO: open the driver's door.
This corresponds to key position 0: "key removed".
The driver's door can be closed again.
■ Press the fuel filler flap in the direction of arrow 1.
The fuel filler flap swings up.
■ Turn the fuel filler flap counter-clockwise and remove it.
■ Insert the fuel filler cap into the holder bracket on the inside of filler flap 2.
■ Completely insert the filler neck of the fuel pump nozzle into the tank, attach and refuel.
■ Only fill the tank until the pump nozzle switches off.
Do not add any more fuel after the pump stops filling for the first time. Otherwise, fuel may leak out.
Closing
■ Replace the cap on the filler neck and turn clockwise until it engages audibly.
■ Close the fuel filler flap.
Close the fuel filler flap before locking the vehicle.
If you are driving with the fuel filler cap open, the

reserve fuel warning lamp
flashes.
In addition, the

Check Engine
warning lamp may light up .
A message appears in the multifunction display .
For further information on warning and indicator lamps in the instrument cluster, see .
See also:
Tachometer
Do not drive in the overrevving range, as this could damage the engine. The red band in the tachometer indicates the engine's overrevving range. The fuel supply is interrupted to protect the ...
Combination switc
Turn signals 1 High-beam headlamps 2 Turn signal, right 3 High-beam flasher 4 Turn signal, l ► To indicate briefly: press the combination switch briefly to the pressure point in the dir ...
Dashboard fuse box
Do not use a pointed object such as a screwdriver to open the cover in the dashboard. You could damage the dashboard or the cover. Make sure that no moisture can enter the fuse box when the cover ...