Fuse box under the rear bench seat
Make sure that no moisture can enter the fuse box when the cover is open.
When closing the cover, make sure that it is lying correctly on the fuse box. Moisture seeping in or dirt could otherwise impair the operation of the fuses or the cover could be damaged by the rear bench seat.
Fold the left-hand rear bench seat forward .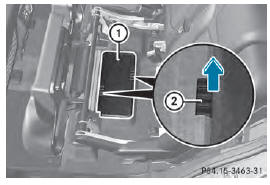 ■ To open: reach into recesses 2 on each side of fuse box cover 1.
■ Fold cover 1 up in the direction of the arrow and remove it from the fuse box.
The fuse allocation chart is located in a recess at the side of the fuse box.
■ To close: place cover 1 on the fuse box.
■ Press cover 1 down until you feel the clamps engage.
■ Fold back the left-hand rear bench seat .
See also:
Important safety notes
WARNING Combustion engines emit poisonous exhaust gases such as carbon monoxide. If the tailgate is open when the engine is running, particularly if the vehicle is moving, exhaust fumes could ent ...
Change of address or change of ownership
In the event of a change of address, please send us the "Notification of Address Change" in the Service and Guarantee booklet or simply call the Mercedes-Benz Customer Assistance Center ...
Information on driving
If the vehicle is heavily loaded, check the tire pressures and correct them if necessary. While driving, pay attention to vibrations, noises and unusual handling characteristics, e.g. pulling to ...