Fuse box under the rear bench seat
Make sure that no moisture can enter the fuse box when the cover is open.
When closing the cover, make sure that it is lying correctly on the fuse box. Moisture seeping in or dirt could otherwise impair the operation of the fuses or the cover could be damaged by the rear bench seat.
Fold the left-hand rear bench seat forward .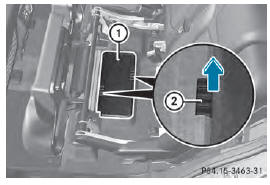 ■ To open: reach into recesses 2 on each side of fuse box cover 1.
■ Fold cover 1 up in the direction of the arrow and remove it from the fuse box.
The fuse allocation chart is located in a recess at the side of the fuse box.
■ To close: place cover 1 on the fuse box.
■ Press cover 1 down until you feel the clamps engage.
■ Fold back the left-hand rear bench seat .
See also:
SmartKey battery
Important safety notes WARNING Batteries contain toxic and corrosive substances. If batteries are swallowed, it can result in severe health problems. There is a risk of fatal injury. Keep batt ...
Switching the windshield wipers on/ off
Do not operate the windshield wipers when the windshield is dry, as this could damage the wiper blades. Moreover, dust that has collected on the windshield can scratch the glass if wiping takes pl ...
Correct driver's seat position
Observe the safety guidelines on seat adjustment. - Check whether you have adjusted seat 3 properly. Electrical seat adjustment When adjusting the seat, make sure: - you a ...