Tire tread
WARNING
Insufficient tire tread will reduce tire traction.
The tire is no longer able to dissipate water.
This means that on wet road surfaces, the risk of hydroplaning increases, in particular where speed is not adapted to suit the driving conditions. There is a risk of accident.
If the tire pressure is too high or too low, tires may exhibit different levels of wear at different locations on the tire tread. Thus, you should regularly check the tread depth and the condition of the tread across the entire width of all tires.
Minimum tire tread depth for: Х Summer tires:

in (3 mm)
Х M+S tires:

in (4 mm)
For safety reasons, replace the tires before the legally prescribed limit for the minimum tire tread depth is reached.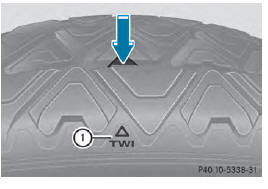 Bar indicator 1 for tread wear is integrated into the tire tread.
Treadwear indicators (TWI) are required by law. Six indicators are positioned on the tire tread. They are visible once the tread depth is approximately

in (1.6 mm). If
this is the case, the tire is so worn that it must be replaced.
See also:
Data stored in the vehicle
Information about electronic data acquisition in the vehicle (Including notice pursuant to California Code І 9951) Your vehicle records electronic data. If your vehicle is equipped with mbrace (C ...
Determining the correct load limit
Step-by-step instructions The following steps have been developed as required of all manufacturers under Title 49, Code of U.S. Federal Regulations, Part 575 pursuant to the "National Traffic ...
Changing the rear bulbs
G 55 AMG only: protective grille Make sure that the protective grille does not hit any painted surfaces. You could otherwise damage the paintwork. Protection grille (AMG vehicles) You must r ...