Adjusting the multicontour seat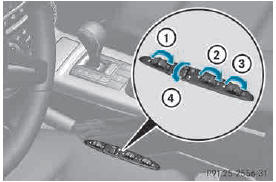 1 To adjust the thigh cushion 2 To adjust the backrest contour in the lumbar region
3 To adjust the backrest contour in the upper back region
4 To adjust the side bolsters of the seat backrest
You can adjust the contour of the front seats individually so as to provide optimum support for your back and sides.
► Make sure that the SmartKey is in position 1 or 2 in the ignition lock.
See also:
Direction of rotation
Tires with a specified direction of rotation have additional benefits, e.g. if there is a risk of hydroplaning. You will only gain these benefits if the correct direction of rotation is observed. ...
Parking the vehicle for a long period
If you leave the vehicle parked for longer than four weeks, the battery may be damaged by exhaustive discharge. ► Connecting a trickle charger. You can obtain information about trickle ...
Tire characteristics
This information describes the type of tire cord and the number of layers in sidewall 1 and under tire tread 2. Tire data is vehicle-specific and may deviate from the data in the example. ...