Adjusting the multicontour seat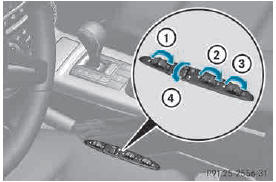 1 To adjust the thigh cushion 2 To adjust the backrest contour in the lumbar region
3 To adjust the backrest contour in the upper back region
4 To adjust the side bolsters of the seat backrest
You can adjust the contour of the front seats individually so as to provide optimum support for your back and sides.
► Make sure that the SmartKey is in position 1 or 2 in the ignition lock.
See also:
Instrument lighting
The lighting in the instrument cluster, in the displays and the controls in the vehicle interior can be adjusted using the brightness control knob. The brightness control knob is located on the ...
Light switch
Operation Switch off the parking lamps and lowbeam headlamps when you leave the vehicle. This prevents the battery from discharging. If the battery has been excessively discharged, the parking ...
Telephone menu
Introduction WARNING The driver's attention to the road must always be his/her primary focus when driving. For your safety and the safety of others, we recommend that you pull over to a safe loc ...