Switching the seat ventilation on/off
Activating/deactivating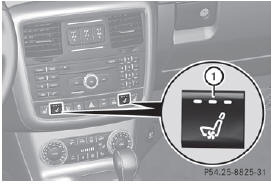 Seat ventilation is only available for the front seats.
The three blue indicator lamps in the buttons indicate the ventilation level you have selected.
► Make sure that the SmartKey is in position 2 in the ignition lock.
► To switch on: press button 1 repeatedly until the desired ventilation level is set.
If you open the side windows and the sliding sunroof using the SmartKey , the driver's seat ventilation automatically switches to the highest level.
► To switch off
: press button 1 repeatedly until all the indicator lamps go out.
If the battery voltage is too low, the seat ventilation may switch off.
Problems with the seat ventilation
If one or all of the indicator lamps in the seat ventilation button are flashing, the seat ventilation has switched off automatically.
The vehicle's electrical system voltage is too low because too many electrical consumers are switched on.
► Switch off electrical consumers that you do not need, such as the rear window defroster or interior lighting.
Once the battery is sufficiently charged, the seat ventilation will switch back on automatically.
See also:
Opening/closing automatically from outside
Important safety notes WARNING Parts of the body could become trapped during automatic closing of the tailgate. Moreover, people, e.g. children, may be standing in the closing area or may enter ...
Calling up a stored setting
X Press the button for storage position 1, 2 or 3. Keep pressing until the seat, steering wheel and exterior mirrors are in the stored position. The setting procedure is interrupted as soon ...
Selecting, mounting and replacing tires
R Only mount tires and wheels of the same type and make. Exception: it is permissible to install a different type or make in the event of a flat tire. Observe the "MOExtended tires (tires wi ...