Control panel for dual-zone automatic climate control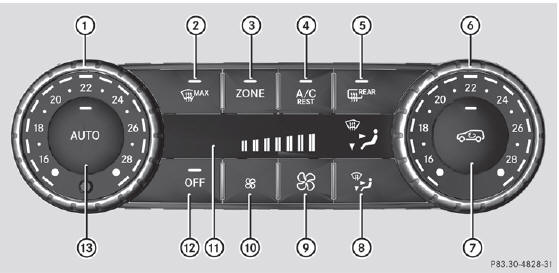 Canada only
1 Sets the temperature, left 2 Defrosts the windshield 3 Switches the ZONE function on/off 4 Activates/deactivates cooling with air dehumidification 5 Switches the rear window defroster on/off 6 Sets the temperature, right 7 Activates/deactivates air-recirculation mode 8 Sets the air distribution 9 Increases the airflow 10 Reduces the airflow
11 Display
12 Switches climate control on/off 13 Sets climate control to automatic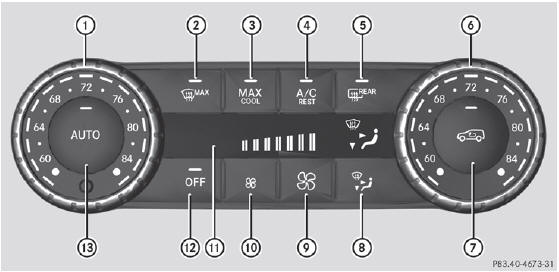 USA only
1 Sets the temperature, left 2 Defrosts the windshield 3 Switches maximum cooling MAX COOL on/off 4 Activates/deactivates cooling with air dehumidification 5 Switches the rear window defroster on/off 6 Sets the temperature, right 7 Activates/deactivates air-recirculation mode 8 Sets the air distribution 9 Increases the airflow 10 Reduces the airflow
11 Display
12 Switches climate control on/off 13 Sets climate control to automatic
See also:
Selecting, mounting and replacing tires
R Only mount tires and wheels of the same type and make. Exception: it is permissible to install a different type or make in the event of a flat tire. Observe the "MOExtended tires (tires wi ...
Removing the ball coupling
X Remove the spring cotter. ■ Remove the bolt from the ball coupling recess. ■ Remove the ball coupling from the ball coupling recess. ■ Clean the ball coupling if it is dirty. ...
Direct select lever
Overview of transmission positions Park position with parking lock Reverse gear Neutral Drive The DIRECT SELECT lever is on the right of the steering column. The DIRECT SELECT lever alwa ...