Control panel for dual-zone automatic climate control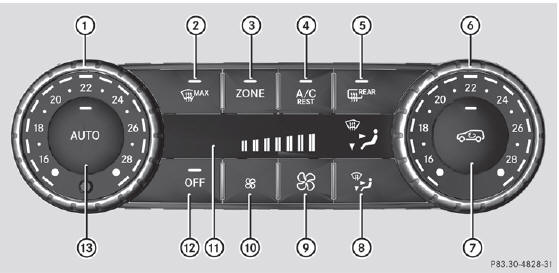 Canada only
1 Sets the temperature, left 2 Defrosts the windshield 3 Switches the ZONE function on/off 4 Activates/deactivates cooling with air dehumidification 5 Switches the rear window defroster on/off 6 Sets the temperature, right 7 Activates/deactivates air-recirculation mode 8 Sets the air distribution 9 Increases the airflow 10 Reduces the airflow
11 Display
12 Switches climate control on/off 13 Sets climate control to automatic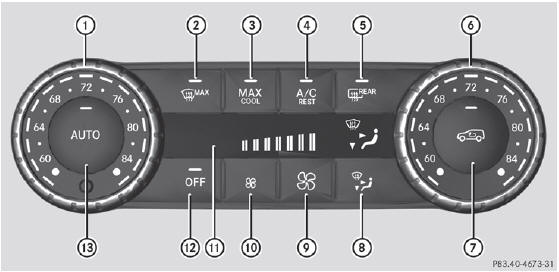 USA only
1 Sets the temperature, left 2 Defrosts the windshield 3 Switches maximum cooling MAX COOL on/off 4 Activates/deactivates cooling with air dehumidification 5 Switches the rear window defroster on/off 6 Sets the temperature, right 7 Activates/deactivates air-recirculation mode 8 Sets the air distribution 9 Increases the airflow 10 Reduces the airflow
11 Display
12 Switches climate control on/off 13 Sets climate control to automatic
See also:
Problems with the automatic transmission
...
Operating safety
Safety notes WARNING Work improperly carried out on electronic components and associated software could cause them to cease functioning. Because the vehicle's electronic components are intercon ...
Engine compartment
Hood Opening the hood WARNING Do not pull the release lever while the vehicle is in motion. Otherwise, the hood could be forced open by passing air flow. This could cause the hood to come loose ...