Fuel filler flap emergency release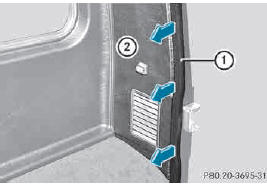 The emergency release is located in the cargo compartment, on the right-hand side when viewed in the direction of travel, behind the rear panel trim.
The vehicle body in the emergency release area has sharp edges. There is a risk of injury. Avoid contact with the edges on the inside of the vehicle body.
► Open the rear door.
► Remove edge protection 1.
► Remove rear panel trim 2.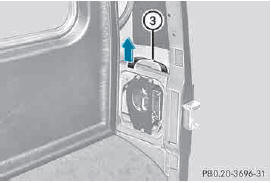 ► Pull emergency release 3 in the direction of the arrow.
The fuel filler flap is unlocked.
► Open the fuel filler flap.
See also:
Occupant safety
Overview of occupant safety In this section, you will learn the most important facts about the restraint system components of the vehicle. The restraint system consists of: - seat belts - child ...
Refueling
Important safety notes WARNING Gasoline and diesel fuels are highly flammable and poisonous. They burn violently and can cause serious injury. Never allow sparks, flames or smoking materials ne ...
Removing the emergency spare wheel
Emergency spare wheel (example: vehicle without lockable cargo compartment floor) 1 Emergency spare wheel retainer 2 Stowage well 3 "Minispare" emergency spare wheel The "Minispa ...