Stowage compartment/ashtray
Stowage compartment/ashtray in the center console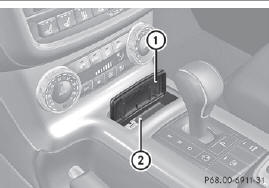 1 Cover
2 Insert
On new vehicles, insert 2 is stored in the glove box. Install the insert before using the ashtray.
► To open: press cover 1 and then release it.
The ashtray opens.
► To remove the insert: make sure that the engine is switched off and that the parking brake has been applied to secure the vehicle against rolling away.
► Move the selector lever to N.
► Press down cover 1.
Insert 2 is released.
► Pull insert 2 upwards and remove it.
► To install the insert: install insert ; from above.
► Push insert 2 down.
Insert 2 audibly engages.
► To close: close cover 1 fully.
The ashtray is lit up if the low-beam headlamps are on.
Ashtray in the rear compartment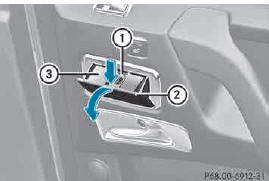 ► To
open
: fold cover 2 out in the direction of the arrow.
► To
remove
the
insert
: press retaining lug 1 and pull insert 3 upwards and out.
► To
install
the
insert
: install insert 3 from above.
► To
close
: close cover 2 fully.
See also:
Activating/deactivating cooling with air dehumidification
Points to observe before use WARNING If you switch off the cooling function, the vehicle will not be cooled when weather conditions are warm. The windows can fog up more quickly. Window fogging m ...
HOLD function
Important safety notes WARNING When leaving the vehicle, it can still roll away despite being braked by the HOLD function if: Х there is a malfunction in the system or in the voltage supply. Х t ...
Changing the settings of the locking system
You can change the settings of the locking system. This means that only the driver's door and the fuel filler flap are unlocked when the vehicle is unlocked. This is useful if you frequently trave ...