Multifunction steering wheel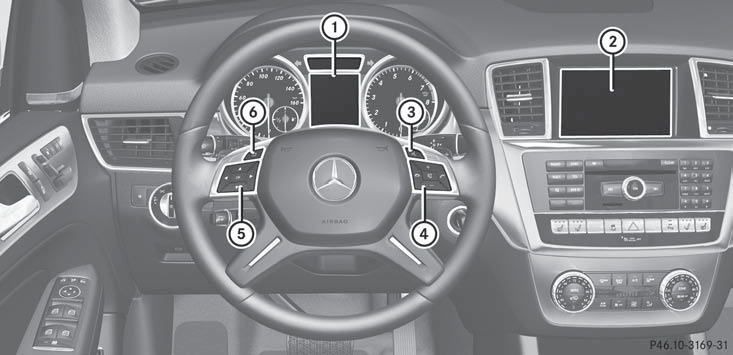 1 Multifunction display 2 COMAND; see the separate operating instructions 3


Rejects or ends a call
Exits phone book/redial memory


Makes or accepts a call
Switches to the redial memory

Adjusts the volume



Mute



Selects a menu



Selects the submenu or scrolls through lists

Confirms selections and hides display messages


Back or deactivates the Voice Control System
See also:
M+S tires
WARNING M+S tires with a tire tread depth of less than 1/6 in (4 mm) are not suitable for use in winter and do not provide sufficient traction. There is a risk of an accident. M+S tires with a ...
Steering wheel EASY-ENTRY/EXIT feature
Important safety notes WARNING Make sure that nobody can become trapped when you activate the EASY-ENTRY/EXIT feature. If there is a risk of someone becoming trapped, stop the adjustment proce ...
Defrosting the windows
Windows fogged up on the inside ■ Activate the cooling with air dehumidification function. ■ Activate automatic mode . ■ If the windows continue to fog up, activate the defros ...