Mercedes-Benz G-Class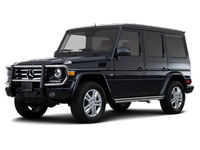 The Mercedes-Benz G-Class was originally developed for military use back in the 1970s as a heavy-duty four-wheel-drive conveyance, but it has been updated over the decades and given as many luxuries, conveniences and refinements as possible. Not that there's any denying the G's utilitarian roots: At nearly 3 tons, describing it as an over-engineered, leather-lined rolling bank vault would be an apt portrayal.
See also:
Tachometer
Do not drive in the overrevving range, as this could damage the engine. The red band in the tachometer indicates the engine's overrevving range. The fuel supply is interrupted to protect the ...
Information for customers in California
In California, you have the right to exchange a vehicle or receive a refund of the purchase or leasing price if Mercedes-Benz USA, LLC and/or an authorized workshop or maintenance facility cannot ...
Adjusting the steering wheel
1 To adjust the steering wheel height 2 To adjust the steering wheel position (fore-and-aft adjustment) If the driver's door is open, the steering wheel can be adjusted for up to 30 minut ...