Mercedes-Benz G-Class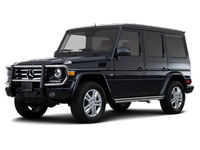 The Mercedes-Benz G-Class was originally developed for military use back in the 1970s as a heavy-duty four-wheel-drive conveyance, but it has been updated over the decades and given as many luxuries, conveniences and refinements as possible. Not that there's any denying the G's utilitarian roots: At nearly 3 tons, describing it as an over-engineered, leather-lined rolling bank vault would be an apt portrayal.
See also:
Adaptive brake
Adaptive brake enhances braking safety and offers increased braking comfort. In addition to the braking function, adaptive brake also has the hold function and hill start assist . ...
Overview of driving safety systems
...
Information on 4MATIC vehicles
Vehicles with 4MATIC must not be towed with either the front or the rear axle raised, as doing so will damage the transmission. If the vehicle has transmission damage or damage to the front or rea ...