Mercedes-Benz G-Class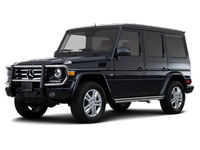 The Mercedes-Benz G-Class was originally developed for military use back in the 1970s as a heavy-duty four-wheel-drive conveyance, but it has been updated over the decades and given as many luxuries, conveniences and refinements as possible. Not that there's any denying the G's utilitarian roots: At nearly 3 tons, describing it as an over-engineered, leather-lined rolling bank vault would be an apt portrayal.
See also:
Adjusting the climate mode settings
You can select the following climate mode settings in automatic mode: FOCUS high airflow that is set slightly cooler MEDIUM medium airflow, standard setting DIFFUSE low airflow that is set slight ...
Adaptive brake lamps
If you brake sharply from a speed of more than 30 mph (50 km/h) or if braking is assisted by BAS, the brake lamps flash rapidly. In this way, traffic traveling behind you is warned in an even more ...
Determining the correct load limit
Step-by-step instructions The following steps have been developed as required of all manufacturers under Title 49, Code of U.S. Federal Regulations, Part 575 pursuant to the "National Traffic ...