Mechanical key
General notes
If the vehicle can no longer be locked or unlocked with the SmartKey, use the mechanical key.
If you use the mechanical key to unlock and open the driver's door, the anti-theft alarm system will be triggered .
There are several ways to turn off the alarm:
■ To turn the alarm off with the SmartKey: press the

or

button
on the SmartKey.
or
■ Insert the SmartKey into the ignition lock.
or
■ To deactivate the alarm with KEYLESSGO: press the Start/Stop button in the ignition lock. The SmartKey must be in the vehicle.
or
■ Lock or unlock the vehicle using KEYLESSGO.
The SmartKey must be outside the vehicle.
If you unlock the vehicle using the mechanical key, the fuel filler flap will not be unlocked automatically.
■ To unlock the fuel filler flap: insert the SmartKey into the ignition lock.
Removing the mechanical key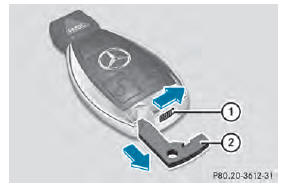 1 Release catch
2 Mechanical key
■ Push release catch 1 in the direction of the arrow and at the same time remove mechanical key 2 from the SmartKey.
See also:
Ball position
Ball position of the ball coupling When choosing a ball coupling, the dimensions stated in the illustration must not be exceeded. Internet Further information about Mercedes-Benz vehicles and ...
Change of address or change of ownership
In the event of a change of address, please send us the "Notification of Address Change" in the Service and Guarantee booklet or simply call the Mercedes-Benz Customer Assistance Center ...
Hood
Important safety notes WARNING Do not pull the release lever while the vehicle is in motion. Otherwise, the hood could be forced open by passing air flow. This could cause the hood to come loos ...