Mechanical key
General notes
If the vehicle can no longer be locked or unlocked with the SmartKey, use the mechanical key.
If you use the mechanical key to unlock and open the driver's door, the anti-theft alarm system will be triggered .
There are several ways to turn off the alarm:
■ To turn the alarm off with the SmartKey: press the

or

button
on the SmartKey.
or
■ Insert the SmartKey into the ignition lock.
or
■ To deactivate the alarm with KEYLESSGO: press the Start/Stop button in the ignition lock. The SmartKey must be in the vehicle.
or
■ Lock or unlock the vehicle using KEYLESSGO.
The SmartKey must be outside the vehicle.
If you unlock the vehicle using the mechanical key, the fuel filler flap will not be unlocked automatically.
■ To unlock the fuel filler flap: insert the SmartKey into the ignition lock.
Removing the mechanical key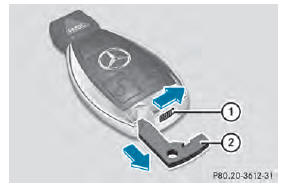 1 Release catch
2 Mechanical key
■ Push release catch 1 in the direction of the arrow and at the same time remove mechanical key 2 from the SmartKey.
See also:
Unlocking and opening doors from the inside
You can open a door from inside the vehicle even if it has been locked. You can only open the rear doors from inside the vehicle if they are not secured by the child-proof locks . If the ve ...
Overview of Tire Quality Grading Standards
Uniform Tire Quality Grading Standards are U.S. government specifications. Their purpose is to provide drivers with uniform reliable information on tire performance data. Tire manufacturers ha ...
Underinflated or overinflated tires
WARNING Tires with pressure that is too low can overheat and burst as a consequence. In addition, they also suffer from excessive and/ or irregular wear, which can severely impair the braking pro ...