SmartKey battery
Important safety notes
WARNING
Batteries contain toxic and corrosive substances. If batteries are swallowed, it can result in severe health problems. There is a risk of fatal injury.
Keep batteries out of the reach of children. If a battery is swallowed, seek medical attention immediately.
Mercedes-Benz recommends that you have the batteries replaced at a qualified specialist workshop.
Checking the battery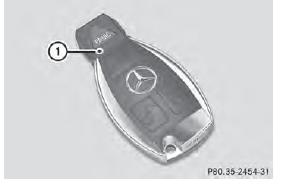 ■ Press the
or


button.
The battery is working properly if battery check lamp 1 lights up briefly.
The battery is discharged if battery check lamp 1 does not light up briefly.
■ Change the battery .
If the SmartKey battery is checked within the signal reception range of the vehicle, pressing the
or


button:
Х locks or Х unlocks the vehicle
You can get a battery at any qualified specialist workshop.
Replacing the battery
You require a CR 2025 3 V cell battery.
■ Take the mechanical key out of the SmartKey .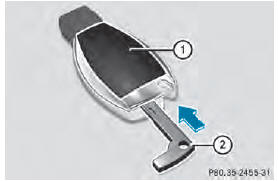 1 Battery compartment cover 2 Mechanical key
■ Press mechanical key 2 into the opening in the SmartKey in the direction of the arrow until battery compartment cover 1 opens. Do not hold battery compartment cover 1 closed while doing so.
■ Remove battery compartment cover 1.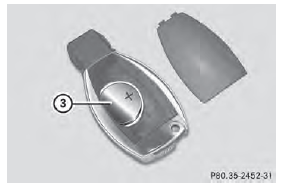 3 Battery
■ Repeatedly tap the SmartKey against your palm until battery 3 falls out.
■ Insert the new battery with the positive terminal facing upwards. Use a lint-free cloth to do so.
■ Make sure that the surface of the battery is free from lint, grease and all other forms of contamination.
■ Insert the front tabs of battery compartment cover 1 into the housing first and then press to close it.
■ Insert mechanical key 2 into the SmartKey.
■ Check the function of all SmartKey buttons on the vehicle.
See also:
Dimensions and weights
Missing values were not available at time of going to print. ...
Engine oil
General notes Depending on the driving style, the vehicle consumes up to 0.9 US qts (0.8 l) of oil over a distance of 600 miles (1000 km). The oil consumption may be higher than this when the veh ...
Switching the rear window defroster on/off
Activating/deactivating WARNING Any accumulation of snow and ice should be removed from the rear window before driving. Visibility could otherwise be impaired, endangering you and others. ` ...