SmartKey battery
Important safety notes
WARNING
Batteries contain toxic and corrosive substances. If batteries are swallowed, it can result in severe health problems. There is a risk of fatal injury.
Keep batteries out of the reach of children. If a battery is swallowed, seek medical attention immediately.
Mercedes-Benz recommends that you have the batteries replaced at a qualified specialist workshop.
Checking the battery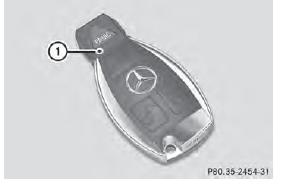 ■ Press the
or


button.
The battery is working properly if battery check lamp 1 lights up briefly.
The battery is discharged if battery check lamp 1 does not light up briefly.
■ Change the battery .
If the SmartKey battery is checked within the signal reception range of the vehicle, pressing the
or


button:
Х locks or Х unlocks the vehicle
You can get a battery at any qualified specialist workshop.
Replacing the battery
You require a CR 2025 3 V cell battery.
■ Take the mechanical key out of the SmartKey .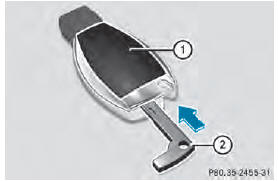 1 Battery compartment cover 2 Mechanical key
■ Press mechanical key 2 into the opening in the SmartKey in the direction of the arrow until battery compartment cover 1 opens. Do not hold battery compartment cover 1 closed while doing so.
■ Remove battery compartment cover 1.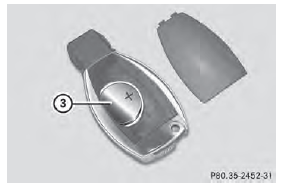 3 Battery
■ Repeatedly tap the SmartKey against your palm until battery 3 falls out.
■ Insert the new battery with the positive terminal facing upwards. Use a lint-free cloth to do so.
■ Make sure that the surface of the battery is free from lint, grease and all other forms of contamination.
■ Insert the front tabs of battery compartment cover 1 into the housing first and then press to close it.
■ Insert mechanical key 2 into the SmartKey.
■ Check the function of all SmartKey buttons on the vehicle.
See also:
Correct driver's seat position
Observe the safety guidelines on seat adjustment. - Check whether you have adjusted seat 3 properly. Electrical seat adjustment When adjusting the seat, make sure: - you a ...
Control panel for dual-zone automatic climate control
Canada only 1 Sets the temperature, left 2 Defrosts the windshield 3 Switches the ZONE function on/off 4 Activates/deactivates cooling with air dehumidification 5 Switches the rear window d ...
Identification plates
Vehicle identification plate with vehicle identification number (VIN) and paint code number Ц Open the driver's door. You will see vehicle identification plate 1. Example: vehicle identif ...