Operating the sliding sunroof
Opening and closing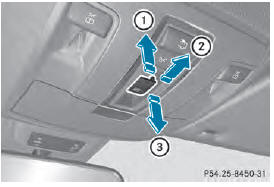 Overhead control panel 1 To raise
2 To open
3To close/lower
■ Turn the SmartKey to position 1 or 2 in the ignition lock.
■ Press or pull the

switch in the
corresponding direction.
If you press the

switch beyond
the point of resistance, an automatic opening/ closing process is started in the corresponding direction. You can stop automatic operation by operating the switch again.
When opening and raising the roof, automatic operation is only available if the sliding sunroof is in the closed position.
The sun protection cover automatically opens along with the sliding sunroof. You can open or close the sun protection cover manually when the sliding sunroof is raised or closed.
You can continue to operate the sliding sunroof after switching off the engine or removing the SmartKey from the ignition lock. This function is available for up to five minutes or until the driver's or frontpassenger door is opened.
Resetting
If the sliding sunroof still cannot be opened or closed fully after resetting, contact a qualified specialist workshop.
Reset the sliding sunroof if it does not move smoothly.
■ Turn the SmartKey to position 1 or 2 in the ignition lock.
■ Raise the sliding sunroof fully at the rear .
■ Keep the

switch pressed for
another second.
■ Make sure that the sliding sunroof can be fully opened and closed again .
■ If this is not the case, repeat the steps above again.
See also:
Driving
Important safety notes WARNING Make sure absolutely no objects are obstructing the pedals' range of movement. Keep the driver's footwell clear of all obstacles. If there are any floormats or ca ...
Stowage space
Important safety notes WARNING To help avoid personal injury during a collision or sudden maneuver, exercise care when storing objects in the vehicle. Put luggage or cargo in the cargo compartmen ...
Underinflated or overinflated tires
WARNING Tires with pressure that is too low can overheat and burst as a consequence. In addition, they also suffer from excessive and/ or irregular wear, which can severely impair the braking pro ...