Control panel for 3-zone automatic climate control with additional rearcompartment climate control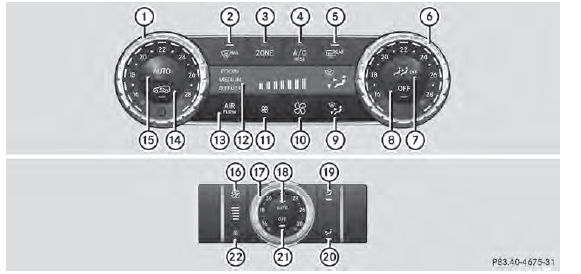 Canada only
Front control panel
1 Sets the temperature, left 2 Defrosts the windshield 3 Switches the ZONE function on/off 4 Activates/deactivates cooling with air dehumidification or activates/ deactivates the residual heating function 5 Switches the rear window defroster on/off 6 Sets the temperature, right 7 Switches rear-compartment climate control on/off 8 Switches climate control on/off 9 Sets the air distribution 10 Increases the airflow 11 Reduces the airflow 12 Display
13 Adjusts the climate control settings 14 Activates/deactivates air-recirculation mode 15 Sets climate control to automatic
Rear control panel
16 Increases the airflow 17 Sets the temperature 18 Sets rear-compartment climate control to automatic 19 Directs the airflow through the rear air vents 20 Directs the airflow through the footwell vents 21 Switches rear-compartment climate control on/off 22 Reduces the airflow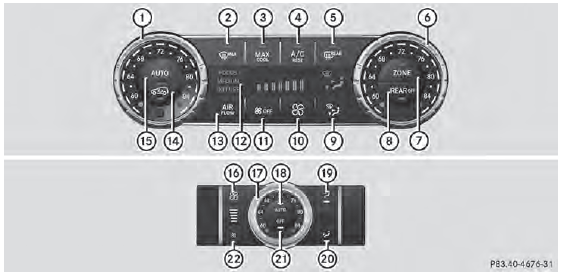 USA only
Front control panel
1 Sets the temperature, left 2 Defrosts the windshield 3 Switches maximum cooling MAX COOL on/off 4 Activates/deactivates cooling with air dehumidification or activates/ deactivates the residual heating function 5 Switches the rear window defroster on/off 6 Sets the temperature, right 7 Switches the ZONE function on/off 8 Switches rear-compartment climate control on/off 9 Sets the air distribution 10 Increases the airflow 11 Reduces the airflow or switches off climate control 12 Display
13 Adjusts the climate control settings 14 Activates/deactivates air-recirculation mode 15 Sets climate control to automatic
Rear control panel
16 Increases the airflow 17 Sets the temperature 18 Sets rear-compartment climate control to automatic 19 Directs the airflow through the rear air vents 20 Directs the airflow through the footwell vents 21 Switches rear-compartment climate control on/off 22 Reduces the airflow
See also:
Wheel and tire combinations
Please bear the following in mind For safety reasons, Mercedes-Benz recommends that you only use Tires and wheels which have been approved by Mercedes-Benz specifically for your vehicle. The ...
Adjusting the multicontour seat
1 To adjust the thigh cushion 2 To adjust the backrest contour in the lumbar region 3 To adjust the backrest contour in the upper back region 4 To adjust the side bolsters of the seat backrest ...
Automatic drive program
Drive program E (drive program C on AMG vehicles) is characterized by the following: Х comfort-oriented engine and transmission settings Х optimal fuel consumption resulting from the automatic t ...