Control panel for 3-zone automatic climate control with additional rearcompartment climate control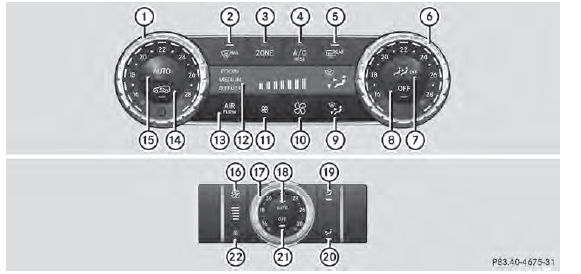 Canada only
Front control panel
1 Sets the temperature, left 2 Defrosts the windshield 3 Switches the ZONE function on/off 4 Activates/deactivates cooling with air dehumidification or activates/ deactivates the residual heating function 5 Switches the rear window defroster on/off 6 Sets the temperature, right 7 Switches rear-compartment climate control on/off 8 Switches climate control on/off 9 Sets the air distribution 10 Increases the airflow 11 Reduces the airflow 12 Display
13 Adjusts the climate control settings 14 Activates/deactivates air-recirculation mode 15 Sets climate control to automatic
Rear control panel
16 Increases the airflow 17 Sets the temperature 18 Sets rear-compartment climate control to automatic 19 Directs the airflow through the rear air vents 20 Directs the airflow through the footwell vents 21 Switches rear-compartment climate control on/off 22 Reduces the airflow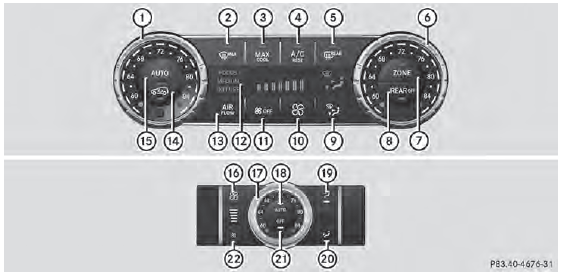 USA only
Front control panel
1 Sets the temperature, left 2 Defrosts the windshield 3 Switches maximum cooling MAX COOL on/off 4 Activates/deactivates cooling with air dehumidification or activates/ deactivates the residual heating function 5 Switches the rear window defroster on/off 6 Sets the temperature, right 7 Switches the ZONE function on/off 8 Switches rear-compartment climate control on/off 9 Sets the air distribution 10 Increases the airflow 11 Reduces the airflow or switches off climate control 12 Display
13 Adjusts the climate control settings 14 Activates/deactivates air-recirculation mode 15 Sets climate control to automatic
Rear control panel
16 Increases the airflow 17 Sets the temperature 18 Sets rear-compartment climate control to automatic 19 Directs the airflow through the rear air vents 20 Directs the airflow through the footwell vents 21 Switches rear-compartment climate control on/off 22 Reduces the airflow
See also:
Tire characteristics
This information describes the type of tire cord and the number of layers in sidewall 1 and under tire tread 2. Tire data is vehicle-specific and may deviate from the data in the example. ...
Parktronic
Important safety notes When parking, pay particular attention to objects above or below the sensors, such as flower pots or trailer drawbars. PARKTRONIC does not detect such objects when they a ...
Battery
Important safety notes In order for the battery to achieve the maximum possible service life, it must always be sufficiently charged. Have the battery checked regularly at a qualified special ...