Adjusting the climate mode settings
You can select the following climate mode settings in automatic mode: FOCUS high airflow that is set slightly cooler
MEDIUM medium airflow, standard setting DIFFUSE low airflow that is set slightly warmer and with less draft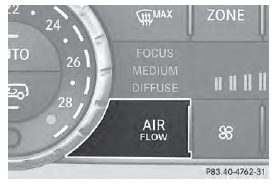 ■ Turn the SmartKey to position 2 in the ignition lock .
■ Press the

button.

■ Press the

button repeatedly until
the desired climate mode appears in the display.
See also:
Tire tread
WARNING Although the applicable federal motor vehicle safety laws consider a tire to be worn when the treadwear indicators (TWI) become visible at approximately 1/16 inches (1.6 mm), we recommend ...
Important notes on tire pressure
WARNING If the tire pressure drops repeatedly, the wheel, valve or tire may be damaged. Tire pressure that is too low may result in a tire blow-out. There is a risk of an accident. • Check the ...
Information on 4MATIC vehicles
Vehicles with 4MATIC must not be towed with either the front or the rear axle raised, as doing so will damage the transmission. If the vehicle has transmission damage or damage to the front or rea ...