Activating/deactivating airrecirculation mode
Points to observe before use
You can deactivate the flow of fresh air if unpleasant odors are entering the vehicle from outside. The air already inside the vehicle will then be recirculated.
If you switch on air-recirculation mode, the windows can fog up more quickly, in particular at low temperatures. Only use airrecirculation mode briefly to prevent the windows from fogging up.
Activating/deactivating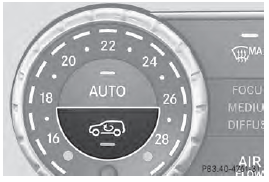 The operation of air-recirculation mode is the same for all control panels.
■ Turn the SmartKey to position 2 in the ignition lock .
■ To activate: press the

button.
The indicator lamp in the

button
lights up.
In the event of high pollution levels (3- zone automatic climate control only) or at high outside temperatures, airrecirculation mode is automatically activated. When air-recirculation mode is activated automatically, the indicator lamp in the

button is not lit.
Outside air is added after about 30 minutes.
■ To deactivate: press the


button.
The indicator lamp in the

button
goes out.
Air-recirculation mode deactivates automatically:
Х after approximately five minutes at outside temperatures below approximately 41

(5


)
Х after approximately five minutes if cooling with air dehumidification is deactivated
Х after approximately 30 minutes at outside temperatures above approximately 41

(5


) if the "Cooling
with air dehumidification" function is activated
See also:
Parking position for the exterior mirror on the front-passenger side
Setting and storing the parking position Using reverse gear 1 Button for the driver's side exterior mirror 2 Button for the front-passenger side exterior mirror 3 Adjustment button 4 Memory bu ...
Cruise control
Important safety notes If you fail to adapt your driving style, cruise control can neither reduce the risk of an accident nor override the laws of physics. Cruise control cannot take into accoun ...