Activating/deactivating airrecirculation mode
Points to observe before use
You can deactivate the flow of fresh air if unpleasant odors are entering the vehicle from outside. The air already inside the vehicle will then be recirculated.
If you switch on air-recirculation mode, the windows can fog up more quickly, in particular at low temperatures. Only use airrecirculation mode briefly to prevent the windows from fogging up.
Activating/deactivating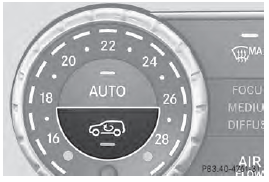 The operation of air-recirculation mode is the same for all control panels.
■ Turn the SmartKey to position 2 in the ignition lock .
■ To activate: press the

button.
The indicator lamp in the

button
lights up.
In the event of high pollution levels (3- zone automatic climate control only) or at high outside temperatures, airrecirculation mode is automatically activated. When air-recirculation mode is activated automatically, the indicator lamp in the

button is not lit.
Outside air is added after about 30 minutes.
■ To deactivate: press the


button.
The indicator lamp in the

button
goes out.
Air-recirculation mode deactivates automatically:
Х after approximately five minutes at outside temperatures below approximately 41

(5


)
Х after approximately five minutes if cooling with air dehumidification is deactivated
Х after approximately 30 minutes at outside temperatures above approximately 41

(5


) if the "Cooling
with air dehumidification" function is activated
See also:
Combination switch
Turn signal 1 High-beam headlamps 2 Turn signal, right 3 High-beam flasher 4 Turn signal, left ■ To indicate briefly: press the combination switch briefly to the pressure point in the d ...
Tires
GL 350 BlueTEC 4MATIC All-weather tires R 19 R 20 All-terrain tires R 18 R 19 Winter tires R 18 3 Use of snow chains not permitted. Observe the notes under "Snow chains". ...
Important safety notes
WARNING If flammable materials such as leaves, grass or twigs are exposed to prolonged contact to parts of the exhaust system that heat up, they could ignite. There is a risk of fire. Park the ...