Activating/deactivating the residual heat function
The "residual heat" function is only available in Canada.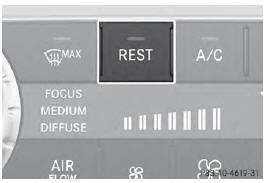 It is possible to make use of the residual heat of the engine to continue heating the stationary vehicle for up to 30 minutes after the engine has been switched off. The heating time depends on the temperature that has been set.
■ To activate: press the

button.
The indicator lamp in the


button lights up.
The blower will run at a low speed regardless of the airflow setting.
If you activate the residual heat function at high temperatures, only the ventilation will be activated. The blower runs at medium speed.
■ To deactivate: press the


button.
The indicator lamp in the


button goes out.
Residual heat is deactivated automatically: Х after approximately 30 minutes Х when the ignition is switched on Х if the battery voltage drops Х when the auxiliary heating is activated
See also:
Engine
...
Activating/deactivating cooling with air dehumidification
Points to observe before use WARNING If you switch off the cooling function, the vehicle will not be cooled when weather conditions are warm. The windows can fog up more quickly. Window fogging m ...
Panic alarm
► To activate: press button 1 for at least one second. An alarm sounds and the indicator lamp flashes. ► To deactivate: press button 1 again. or X Insert the SmartKey i ...