Stowage space
Important safety notes
WARNING
If objects in the passenger compartment are stowed incorrectly, they can slide or be thrown around and hit vehicle occupants.
There is a risk of injury, particularly in the event of sudden braking or a sudden change in direction.
Х Always stow objects so that they cannot be thrown around in such situations.
Х Always make sure that objects do not protrude from stowage spaces, parcel nets or stowage nets.
Х Close the lockable stowage spaces while driving.
Х Stow and secure objects that are heavy, hard, pointy, sharp-edged, fragile or too large in the cargo compartment.
Observe the loading guidelines .
Glove box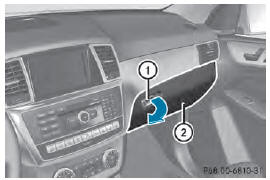 ■ To open: pull handle 1 and open glove box flap 2.
■ To close: fold glove box flap 2 upwards until it engages.
The glove box can be cooled and ventilated .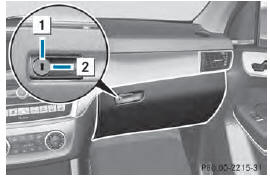 1 Glove box unlocked
2 Glove box locked
The glove box can be locked and unlocked using the mechanical key.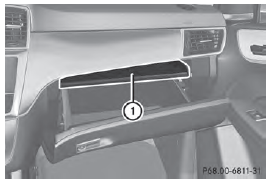 Partition 1 for stowing flat objects is located in the upper section of the glove box. It can be removed to increase the stowage space in the glove box.
■ To remove: pull partition 1 forwards and out
■ To install: insert partition 1 and push it back until it engages.
Stowage compartment under the armrest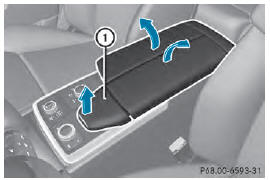 ■ To open: pull handle 1 up.
The armrest folds out.
In the stowage compartment, there is a stowage tray.
Depending on the vehicle's equipment, a USB connection and an AUX IN connection or a Media Interface are installed in the stowage compartment.
Media Interface is a universal interface for mobile audio equipment, e.g. for an iPodЃ or MP3 Player.
There is a removable stowage tray in the storage compartment, in which objects such as an iPodЃ can be stored.
Eyeglasses compartment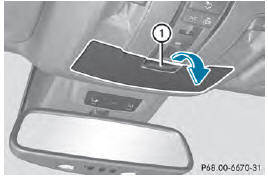 ■ To open: press marking 1.
The eyeglasses compartment opens downwards.
■ To close: press marking 1 again and eyeglasses compartment returns upwards and engages.
Make sure that the eyeglasses compartment is always closed while the vehicle is in motion.
Stowage compartment in the front center console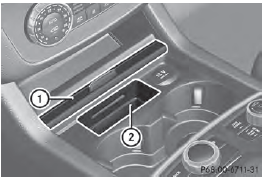 ■ To open: slide cover 1 forwards.
Stowage compartment 2 appears.
■ To close: pull cover 1 back as far as it will go.
Stowage compartment in the rear center console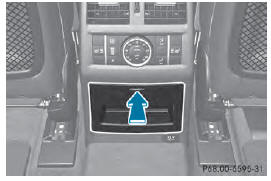 ■ To open: briefly press the stowage compartment marking.
The stowage compartment opens.
Depending on the vehicle's equipment, there may be open stowage spaces above and below the stowage compartment.
See also:
Operating the on-board computer
Overview 1 Multifunction display 2 To switch on the Voice Control System; see the separate operating instructions 3 Right control panel 4 Left control panel 5 Back button ► To activate ...
Rear view camera
Important safety notes The rear view camera is only an aid. It is not a replacement for your attention to your immediate surroundings. You are always responsible for safe maneuvering and parking. ...
Operator's Manual
Notes on the Operator's Manual This Operator's Manual contains a great deal of helpful information. We urge you to read it carefully and familiarize yourself with the vehicle before driving. For ...