Stowage space
Important safety notes
WARNING
If objects in the passenger compartment are stowed incorrectly, they can slide or be thrown around and hit vehicle occupants.
There is a risk of injury, particularly in the event of sudden braking or a sudden change in direction.
Х Always stow objects so that they cannot be thrown around in such situations.
Х Always make sure that objects do not protrude from stowage spaces, parcel nets or stowage nets.
Х Close the lockable stowage spaces while driving.
Х Stow and secure objects that are heavy, hard, pointy, sharp-edged, fragile or too large in the cargo compartment.
Observe the loading guidelines .
Glove box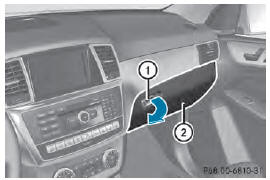 ■ To open: pull handle 1 and open glove box flap 2.
■ To close: fold glove box flap 2 upwards until it engages.
The glove box can be cooled and ventilated .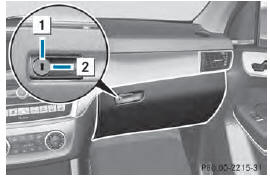 1 Glove box unlocked
2 Glove box locked
The glove box can be locked and unlocked using the mechanical key.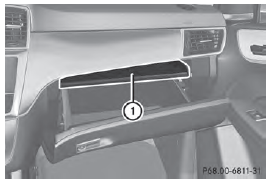 Partition 1 for stowing flat objects is located in the upper section of the glove box. It can be removed to increase the stowage space in the glove box.
■ To remove: pull partition 1 forwards and out
■ To install: insert partition 1 and push it back until it engages.
Stowage compartment under the armrest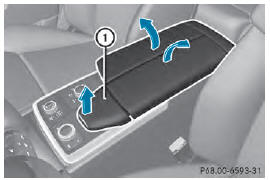 ■ To open: pull handle 1 up.
The armrest folds out.
In the stowage compartment, there is a stowage tray.
Depending on the vehicle's equipment, a USB connection and an AUX IN connection or a Media Interface are installed in the stowage compartment.
Media Interface is a universal interface for mobile audio equipment, e.g. for an iPodЃ or MP3 Player.
There is a removable stowage tray in the storage compartment, in which objects such as an iPodЃ can be stored.
Eyeglasses compartment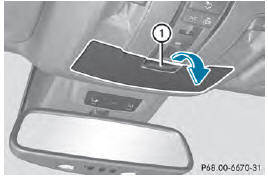 ■ To open: press marking 1.
The eyeglasses compartment opens downwards.
■ To close: press marking 1 again and eyeglasses compartment returns upwards and engages.
Make sure that the eyeglasses compartment is always closed while the vehicle is in motion.
Stowage compartment in the front center console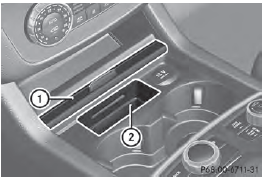 ■ To open: slide cover 1 forwards.
Stowage compartment 2 appears.
■ To close: pull cover 1 back as far as it will go.
Stowage compartment in the rear center console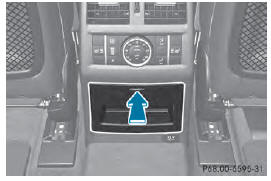 ■ To open: briefly press the stowage compartment marking.
The stowage compartment opens.
Depending on the vehicle's equipment, there may be open stowage spaces above and below the stowage compartment.
See also:
Important safety notes
New and replaced brake pads and discs only reach their optimum braking effect after several hundred kilometers of driving. Compensate for this by applying greater force to the brake pedal. ...
Key positions
SmartKey 0 To remove the SmartKey 1 Power supply for some consumers, such as the windshield wipers 2 Ignition (power supply for all consumers) and drive position 3 To start the engine The Sma ...
Switching off the engine
Important safety notes WARNING If you switch off the ignition while driving, safety-relevant functions are only available with limitations, or not at all. This could affect, for example, the powe ...