Floormats
WARNING
Objects in the driver's footwell can restrict the pedal travel or obstruct a depressed pedal.
The operating and road safety of the vehicle is jeopardized. There is a risk of an accident.
Make sure that all objects in the vehicle are stowed correctly, and that they cannot enter the driver's footwell. Install the floormats securely and as specified in order to ensure sufficient clearance for the pedals. Do not use loose floormats.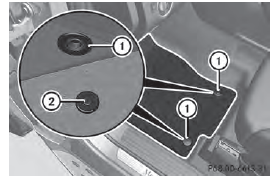 Floormat on the driver's side (example)
■ Driver's seat/front-passenger seat: slide the respective seat back.
■ Rear seats: slide the respective seat forwards.
■ To install: place the floormat in the footwell.
■ Press studs 1 onto retainers 2.
■ To remove: pull the floormat from retainers 2.
■ Remove the floormat.
See also:
Direction of rotation
Tires with a specified direction of rotation have additional benefits, e.g. if there is a risk of hydroplaning. You will only gain these benefits if the correct direction of rotation is observed. ...
Rear view camera
Important safety notes The rear view camera is only an aid. It is not a replacement for your attention to your immediate surroundings. You are always responsible for safe maneuvering and parking. ...