SmartKey battery
Important safety notes
WARNING
Batteries contain toxic and corrosive substances. If batteries are swallowed, it can result in severe health problems. There is a risk of fatal injury.
Keep batteries out of the reach of children. If a battery is swallowed, seek medical attention immediately.
The SmartKey batteries contain perchlorate material, which may require special handling and regard for the environment. National guidelines must be observed during disposal.
In California, see www.dtsc.ca.gov/ HazardousWaste/Perchlorate/ index.cfm.
Mercedes-Benz recommends that you have the batteries replaced at a qualified specialist workshop.
Checking the battery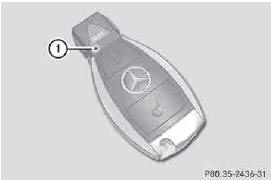 ► Press the
or


button.
The battery is working properly if battery check lamp 1 lights up briefly.
If battery check lamp 1 does not light up during the test, the battery is discharged.
► Change the battery .
You can get a battery in any qualified specialist workshop.
Have the batteries replaced at a qualified specialist workshop.
If the SmartKey battery is checked within the signal reception range of the vehicle, pressing the

or


button:
Х locks or Х unlocks the vehicle
Replacing the battery
You require a CR 2025 3 V cell battery.
► Take the mechanical key out of the SmartKey .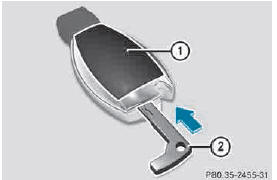 1 Battery compartment cover 2 Mechanical key
► Press mechanical key 2 into the opening in the SmartKey in the direction of the arrow until battery tray cover 1 opens. Do not hold the cover closed while doing so.
► Remove battery tray cover 1.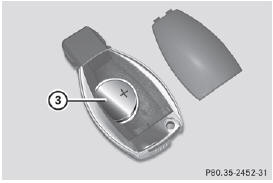 3 Battery
► Repeatedly tap the SmartKey against your palm until battery 3 falls out.
► Insert the new battery with the positive terminal facing upwards. Use a lint-free cloth to do so.
► Make sure that the surface of the battery is free from lint, grease and all other forms of contamination.
► Insert the front tabs of battery tray cover 1 and then press to close it.
► Insert the mechanical key into the SmartKey.
► Check the function of all SmartKey buttons on the vehicle.
See also:
Cup holder
Important safety notes WARNING If objects in the passenger compartment are stowed incorrectly, they can slide or be thrown around and hit vehicle occupants. There is a risk of injury, particula ...
DOT, Tire Identification Number (TIN)
U.S. tire regulations prescribe that every manufacturer of new tires or retreader has to imprint a TIN in or on the sidewall of each tire produced. The TIN is a unique identification number. The ...
Replacing bulbs
Important safety notes Xenon bulbs If your vehicle is equipped with Xenon bulbs, you can recognize this by the following: the cone of light from the Xenon bulbs moves from the top to the bottom a ...