Opening and closing the sliding sunroof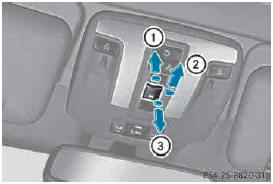 Overhead control panel 1 To raise
2 To open
3 To close/lower
► Turn the SmartKey to position 1 or 2 in the ignition.
► Press or pull the

switch in the
corresponding direction.
► To open automatically: press the


switch briefly beyond the point of resistance in the direction of arrow 2.
The sliding sunroof opens completely.
► To interrupt automatic operation: press or pull the

switch again.
When opening and raising the roof, automatic operation is only available if the sliding sunroof is in the closed position.
See also:
Activating/deactivating MAX COOL maximum cooling
The MAX COOL function is only available in vehicles for the USA. MAX COOL is only operational when the engine is running. ► To activate: press the Ù button. The indicator lamp ...
Vehicle identification plate
Even if you have calculated the total load carefully, you should still make sure that the gross vehicle weight rating and the gross axle weight rating are not exceeded. Details can be found on the ...
Information on 4MATIC vehicles
Vehicles with 4MATIC must not be towed with either the front or the rear axle raised, as doing so will damage the transmission. If the vehicle has transmission damage or damage to the front or rea ...