Overview of interior lighting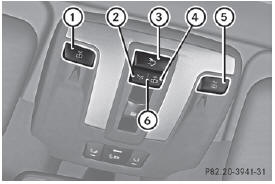 1

Switches the left-hand front
reading lamp on/off
2

Switches the front interior
lighting on
3

Switches the cargo compartment
lamp/rear interior lighting on/off
4

Switches the front interior
lighting/ automatic interior lighting control off
5

Switches the right-hand reading
lamp on/off
6 Switches the automatic interior lighting control on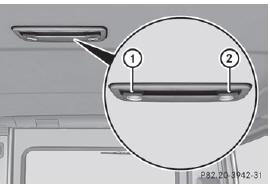 Rear-compartment overhead control panel
1

Switches the right-hand reading
lamp on/off
2

Switches the left-hand reading
lamp on/off
See also:
Overview of climate control systems
Important safety notes WARNING Severe conditions (e.g. strong air pollution) may require replacement of the filter before its scheduled replacement interval. A clogged filter will reduce the air ...
Steer control
Observe the "Important safety notes" section . STEER CONTROL helps you by transmitting a noticeable steering force to the steering wheel in the direction required for vehicle stabi ...
Tire tread
WARNING Insufficient tire tread will reduce tire traction. The tire is no longer able to dissipate water. This means that on wet road surfaces, the risk of hydroplaning increases, in particula ...