Switching the windshield defroster on/off
WARNING
Any accumulation of snow and ice should be removed from the windshield before driving.
Otherwise, your vision may be impaired, which could endanger you or others.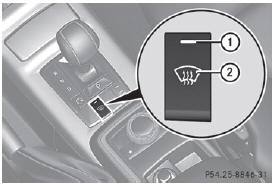 ► Turn the SmartKey to position 2 in the ignition lock.
► To switch on: press button 2.
Indicator lamp 1 lights up.
► To switch off: press button 2.
Indicator lamp 1 goes out.
At outside temperatures above 50 º F(10 º C), the windshield heating cannot be activated. Indicator lamp : lights up briefly when you attempt to activate it and then goes out again.
The windshield defroster has a high current draw. You should therefore switch it off as soon as the windshield is clear. The windshield heating otherwise switches itself off automatically after 10 minutes.
If you turn on the windshield heating for the fourth consecutive time, the windshield heating will automatically switch off after 5 minutes.
If the vehicle's electrical system voltage is too low because too many electrical consumers are switched on, indicator lamp 1 flashes. After approximately 30 seconds, the windshield heating turns off automatically.
See also:
Information on 4MATIC vehicles
Vehicles with 4MATIC must not be towed with either the front or the rear axle raised, as doing so will damage the transmission. If the vehicle has transmission damage or damage to the front or rea ...
General driving tips
Important safety notes WARNING Always remember that you must concentrate primarily on driving the vehicle. The driver's concentration must always be directed primarily at road traffic. For your o ...
Important safety notes
WARNING Only use fuses that have been approved for Mercedes-Benz vehicles and that have the correct fuse rating for the systems concerned. Do not attempt to repair or bridge faulty fuses. Using f ...