Maximum load rating
WARNING
Do not overload the tires by exceeding the specified load limit as indicated on the Tire and Loading Information placard on the driver's door B-pillar. Overloading the tires can overheat them, possibly causing a blowout. Overloading the tires can also result in handling or steering problems, or brake failure.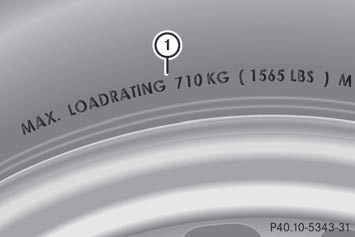 The actual values for tires are specific to each vehicle and may deviate from the values in the illustration.
Maximum tire load 1 is the maximum permitted weight for which the tire is approved.
Further information on tire loads.
See also:
Engine number
1 Emission control information plate, including the certification of both federal and Californian emissions standards 2 Engine number (stamped into the crankcase) 3 VIN (on the lower edge of th ...
Important safety notes
WARNING If children are left unsupervised in the vehicle, they could: Х open the doors, thus endangering other people or road users. Х get out and disrupt traffic. Х operate the vehicle's equipm ...
Driving with summer tires
At temperatures below 45 º F (+7 º C), summer tires lose elasticity significantly, and therefore traction and braking power as well. Change the tires on your vehicle to M+S tires. Usin ...