Maximum load rating
WARNING
Do not overload the tires by exceeding the specified load limit as indicated on the Tire and Loading Information placard on the driver's door B-pillar. Overloading the tires can overheat them, possibly causing a blowout. Overloading the tires can also result in handling or steering problems, or brake failure.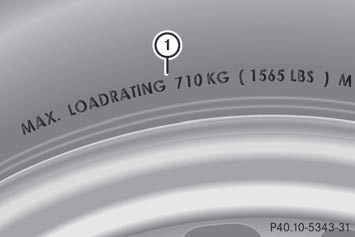 The actual values for tires are specific to each vehicle and may deviate from the values in the illustration.
Maximum tire load 1 is the maximum permitted weight for which the tire is approved.
Further information on tire loads.
See also:
Problems with the fuel and fuel tank
...
Traction
WARNING The traction grade assigned to this tire is based on straight-ahead braking traction tests, and does not include acceleration, cornering, hydroplaning, or peak traction characteristics. ...
Parking brake
WARNING If you must brake the vehicle with the parking brake, the braking distance is considerably longer and the wheels could lock. There is an increased danger of skidding and accidents. Only ...