Maximum load rating
WARNING
Do not overload the tires by exceeding the specified load limit as indicated on the Tire and Loading Information placard on the driver's door B-pillar. Overloading the tires can overheat them, possibly causing a blowout. Overloading the tires can also result in handling or steering problems, or brake failure.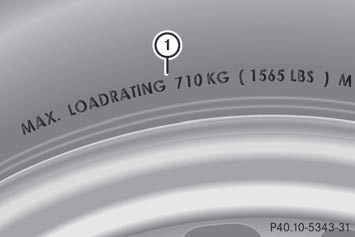 The actual values for tires are specific to each vehicle and may deviate from the values in the illustration.
Maximum tire load 1 is the maximum permitted weight for which the tire is approved.
Further information on tire loads.
See also:
Towing a vehicle with both axles on the ground
It is important that you observe the safety instructions when towing away your vehicle . The automatic transmission automatically shifts to position P when you open the driver's or front-p ...
Exterior lighting
General notes For reasons of safety, Mercedes-Benz recommends that you drive with the lights switched on even during the daytime. In some countries, operation of the headlamps varies due to legal ...
MOExtended tires (tires with run-flat properties)
General notes With MOExtended tires (tires with run flat characteristics), you can continue to drive your vehicle even if there is a total loss of pressure in one or more tires. The affected tire ...