Child-proof locks
Important safety notes
WARNING
When leaving the vehicle, always remove the SmartKey from the ignition lock. Always take the SmartKey with you and lock the vehicle.
Do not leave children unattended in the vehicle, even if they are secured in a child restraint system, or with access to an unlocked vehicle. A child's unsupervised access to a vehicle could result in an accident and/or serious personal injury. The children could:
Х injure themselves on parts of the vehicle Х be seriously or fatally injured through excessive exposure to extreme heat or cold Х injure themselves or cause an accident with vehicle equipment that can be operated even if the SmartKey is removed from the ignition lock or removed from the vehicle, such as seat adjustment, steering wheel adjustment, or the memory function If children open a door, they could injure other persons or get out of the vehicle and injure themselves or be injured by following traffic.
Do not expose the child restraint system to direct sunlight. The child restraint system's metal parts, for example, could become very hot, and the child could be burned on these parts.
Child-proof locks for the rear doors
WARNING
Children could open a rear door from inside the vehicle. This could result in serious injuries or an accident. Therefore, when children ride in the rear always secure the rear doors with the child-proof locks.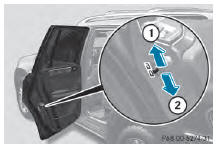 You secure each door individually with the child-proof locks on the rear doors. A door secured with a child-proof lock cannot be opened from inside the vehicle. When the vehicle is unlocked, the door can be opened from the outside.
■ To activate: press the child-proof lock lever down in the direction of arrow 2.
■ Make sure that the child-proof locks are working properly.
■ To deactivate: press the child-proof lock lever up in the direction of arrow 1.
Override feature for the rear side windows
WARNING
When children ride on the vehicle's rear seats, activate the override switch. Otherwise, the children could be injured, e.g. by trapping themselves in the rear side window.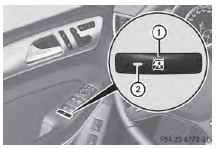 ■ To activate/deactivate: press button 1.
If indicator lamp 2 is lit, operation of the rear side windows is disabled. Operation is only possible using the switches in the driver's door. If indicator lamp ; is off, operation is possible using the switches in the rear compartment.
See also:
General driving tips
Important safety notes WARNING Always remember that you must concentrate primarily on driving the vehicle. The driver's concentration must always be directed primarily at road traffic. For your o ...
Engine oil
General notes Never use engine oil or an oil filter of a specification other than is necessary to fulfill the prescribed service intervals. Do not change the engine oil or oil filter in order to ...