Mercedes-Benz G-Class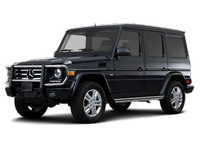 The Mercedes-Benz G-Class was originally developed for military use back in the 1970s as a heavy-duty four-wheel-drive conveyance, but it has been updated over the decades and given as many luxuries, conveniences and refinements as possible. Not that there's any denying the G's utilitarian roots: At nearly 3 tons, describing it as an over-engineered, leather-lined rolling bank vault would be an apt portrayal.
See also:
SmartKey
...
Important safety notes
WARNING Service products may be poisonous and hazardous to health. There is a risk of injury. Comply with instructions on the use, storage and disposal of service products on the labels of the ...
Engine oil
General notes Never use engine oil or an oil filter of a specification other than is necessary to fulfill the prescribed service intervals. Do not change the engine oil or oil filter in order to ...