Mercedes-Benz G-Class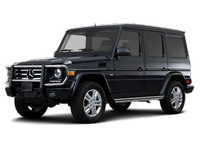 The Mercedes-Benz G-Class was originally developed for military use back in the 1970s as a heavy-duty four-wheel-drive conveyance, but it has been updated over the decades and given as many luxuries, conveniences and refinements as possible. Not that there's any denying the G's utilitarian roots: At nearly 3 tons, describing it as an over-engineered, leather-lined rolling bank vault would be an apt portrayal.
See also:
Editorial office
Not to be reprinted, translated or otherwise reproduced, in whole or in part, without the written permission of Daimler AG. ...
Recovering a vehicle that has become stuck
Pull away smoothly, slowly, and in a straight line when pulling out a vehicle that has become stuck. Excessive tractive power could damage the vehicles. If the drive wheels get trapped on loose ...
Menus and submenus
Menu overview The number of menus shown depends on the optional equipment in the vehicle. Function 1 Trip menu 2 Navi menu (navigation instructions) 3 Audio menu 4 Tel menu (telephone) 5 Driv ...