Keyless-go
General notes
Bear in mind that the engine can be started by any of the vehicle occupants if there is a KEYLESS-GO key in the vehicle.
Locking/unlocking centrally
You can start, lock or unlock the vehicle using KEYLESS-GO. To do this, you only need carry the SmartKey with you. You can combine the functions of KEYLESS-GO with those of a conventional SmartKey. Unlock the vehicle by using KEYLESS-GO, for instance, and lock it using the

button on the SmartKey.
When locking or unlocking with KEYLESS-GO, the distance between the SmartKey and the corresponding door handle must not be greater than 3 ft (1 m).
KEYLESS-GO checks whether a valid SmartKey is in the vehicle by periodically establishing a radio connection between the vehicle and the SmartKey. This happens: Х when the external door handles are touched
Х when starting the engine Х while the vehicle is in motion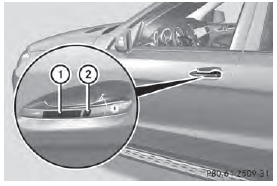 ■ To unlock the vehicle: touch the inner surface of the door handle.
■ To lock the vehicle: touch sensor surface 1.
■ Convenience closing feature: touch recessed sensor surface 2 for an extended period.
Further information on the convenience closing feature .
If you pull on the handle of the tailgate, only the cargo compartment of the vehicle is unlocked.
See also:
Important safety notes
Xenon bulbs DANGER Xenon bulbs carry a high voltage. You can get an electric shock if you remove the cover of the Xenon bulb and touch the electrical contacts. There is a risk of fatal injury. ...
Winter operation
Please bear the following in mind At the onset of winter, have your vehicle winterproofed at a qualified specialist workshop, e.g. at an authorized Mercedes- Benz Center. Observe the notes in the ...
Traction
WARNING The traction grade assigned to this tire is based on straight-ahead braking traction tests, and does not include acceleration, cornering, hydroplaning, or peak traction characteristics. ...