Mechanical key
General notes
If the vehicle can no longer be locked or unlocked with the SmartKey, use the mechanical key.
If you use the mechanical key to unlock and open the driver's door, the anti-theft alarm system will be triggered .
There are several ways to turn off the alarm:
■ To turn the alarm off with the SmartKey: press the

or


button
on the SmartKey.
or
■ Insert the SmartKey into the ignition lock.
or
■ To deactivate the alarm with KEYLESSGO: press the Start/Stop button in the ignition lock. The SmartKey must be in the vehicle.
or
■ Lock or unlock the vehicle using KEYLESSGO.
The SmartKey must be outside the vehicle.
If you unlock the vehicle using the mechanical key, the fuel filler flap will not be unlocked automatically.
■ To unlock the fuel filler flap: insert the SmartKey into the ignition lock.
Removing the mechanical key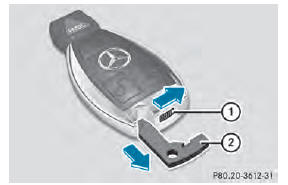 1 Release catch
2 Mechanical key
■ Push release catch 1 in the direction of the arrow and at the same time remove mechanical key 2 from the SmartKey.
See also:
Cornering light function
The cornering light function improves the illumination of the road over a wide angle in the direction you are turning, enabling better visibility in tight bends, for example. It can only be acti ...
Hazard warning lamps
■ To switch on the hazard warning lamps: press button 1. All turn signals flash. If you now switch on a turn signal using the combination switch, only the turn signal lamp on the corres ...