Opening/closing automatically from inside
Important safety notes
WARNING
Parts of the body could become trapped during automatic closing of the tailgate.
Moreover, people, e.g. children, may be standing in the closing area or may enter the closing area during the closing process. There is a risk of injury.
Make sure that nobody is in the vicinity of the closing area during the closing process.
Use one of the following options to stop the closing process:
Х press the
button on the
SmartKey.
Х press the remote operating switch on the driver's door.
Х press the closing or locking button on the tailgate.
Х pull the handle on the tailgate.
WARNING
Combustion engines emit poisonous exhaust gases such as carbon monoxide. If the tailgate is open when the engine is running, particularly if the vehicle is moving, exhaust fumes could enter the passenger compartment. There is a risk of poisoning.
Turn off the engine before opening the tailgate. Never drive with the tailgate open.
The tailgate swings upwards and to the rear when opened. Therefore, make sure that there is sufficient clearance above and behind the tailgate.
Tailgate opening dimensions .
The tailgate is equipped with an automatic reversing feature. If an object blocks or restricts the tailgate during the closing process, the tailgate opens again automatically.
Opening and closing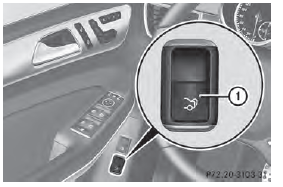 You can open and close the tailgate from the driver's seat when the vehicle is stationary and unlocked.
■ To open: pull remote operating switch 1 for the tailgate until the tailgate opens.
■ To close: turn the SmartKey to position 1 or 2 in the ignition lock.
■ Press remote operating switch for tailgate 1 until the tailgate is closed.
See also:
Mirrors
Rear-view mirror Rear-view mirror (manual anti-glare) - anti-glare mode: flick anti-glare switch 1 forwards or back. Exterior mirrors Adjusting the exterior mirrors WARNING Exercise care whe ...
Operating safety
Safety notes WARNING Work improperly carried out on electronic components and associated software could cause them to cease functioning. Because the vehicle's electronic components are intercon ...
Tire labeling
Tire labeling overview The following markings are on the tire in addition to the tire name (sales designation) and the manufacturer's name: 1 Uniform tire Quality Grading Standard 2 DOT, Tire ...