Opening and closing the hinged side windows
Important safety notes
WARNING
Make sure that nobody can become trapped as you close the hinged side windows. If there is a risk of somebody becoming trapped, release the switch or push the switch again to reopen the side window.
Opening/closing
The hinged side windows are operated electrically from the from the driver's seat.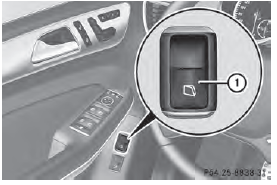 ■ Make sure that the SmartKey is in position 1 or 2 in the ignition lock.
■ To open fully: press switch 1 and release.
■ To close fully: pull switch 1 and release.
■ To stop the closing procedure: press switch 1 again.
Both hinged side windows open fully.
If the hinged side windows are blocked when closing, the closing procedure is interrupted and the hinged side windows open again fully.
See also:
Winter driving
General no DANGER If the exhaust pipe is blocked or adequate ventilation is not possible, poisonous gases such as carbon monoxide (CO) may enter the vehicle. This is the case, e.g. if the vehicle ...
Information regarding technical data
The data stated here specifically refers to a vehicle with standard equipment. Consult an authorized Mercedes-Benz Center for the data for all vehicle variants and trim levels. ...
Activating/deactivating cooling with air dehumidification
Points to observe before use If you deactivate the "Cooling with airdehumidification" function, the air inside the vehicle will not be cooled. The air inside the vehicle will also not be ...