Opening and closing the hinged side windows
Important safety notes
WARNING
Make sure that nobody can become trapped as you close the hinged side windows. If there is a risk of somebody becoming trapped, release the switch or push the switch again to reopen the side window.
Opening/closing
The hinged side windows are operated electrically from the from the driver's seat.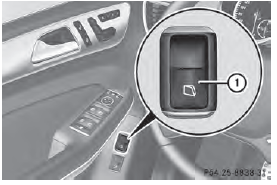 ■ Make sure that the SmartKey is in position 1 or 2 in the ignition lock.
■ To open fully: press switch 1 and release.
■ To close fully: pull switch 1 and release.
■ To stop the closing procedure: press switch 1 again.
Both hinged side windows open fully.
If the hinged side windows are blocked when closing, the closing procedure is interrupted and the hinged side windows open again fully.
See also:
Tires
G 550 All-weather tires You can obtain information about tires and tire dimensions that are not listed here at any authorized Mercedes-Benz Center. Spare wheel All-weather tires You can obt ...
Hood
Important safety notes WARNING If the hood is unlatched, it may open up when the vehicle is in motion and block your view. There is a risk of an accident. Never unlatch the hood while driving ...
Installing the ball coupling
WARNING If the ball coupling is not installed and secured correctly it can become detached while the vehicle is in motion and fall onto the road. There is a risk of accident and injury. Alway ...