Changing the rear bulbs
Opening and closing the service flap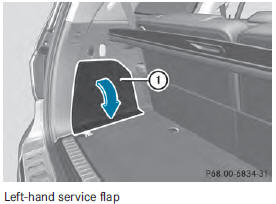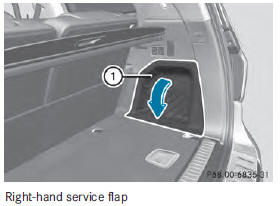 You must open the service flap in the cargo compartment before you can change the bulbs in the brake lamp.
■ To open: release service flap 1 at the top, e.g. with a screwdriver, and swing it downward in the direction of the arrow.
■ Right side: remove the first-aid kit beforehand and pull the parcel net down.
■ To close: reinsert service flap 1.
Brake lamp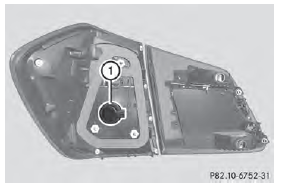 ■ Switch off the lights.
■ Open the cargo compartment.
■ Open the service flap .
■ Turn bulb holder 1 counter-clockwise and remove it.
■ Take bulb out of bulb holder 1.
■ Insert the new bulb into bulb holder 1.
■ Insert bulb holder 1 into the lamp and turn it clockwise.
■ Close the service flap .
See also:
Qualified specialist workshop
An authorized Mercedes-Benz Center is a qualified specialist workshop. It has the necessary specialist knowledge, tools and qualifications to correctly carry out the work required on your vehicle. ...
Gnu compiler
Copyright © 1982, 1986 Regents of the University of California. All rights reserved. The Berkeley software License Agreement specifies the terms and conditions for redistribution. Redistribution ...
Warning and indicator lamps in the instrument cluster
Seat belt Display messages Possible causes/consequences and Solutions After starting the engine, the red seat belt warning lamp lights up for six seconds. The sea ...