Switching the windshield wipers on/ off
Do not operate the windshield wipers when the windshield is dry, as this could damage the wiper blades. Moreover, dust that has collected on the windshield can scratch the glass if wiping takes place when the windshield is dry.
If it is necessary to switch on the windshield wipers in dry weather conditions, always use washer fluid when operating the windshield wipers.
If the windshield wipers leave smears on the windshield after the vehicle has been washed in an automatic car wash, wax or other residues may be the reason for this.
Clean the windshield using washer fluid after washing the vehicle in an automatic car wash.
Intermittent wiping with rain sensor: due to optical influences and the windshield becoming dirty in dry weather conditions, the windshield wipers may be activated inadvertently. This could then damage the windshield wiper blades or scratch the windshield.
For this reason, you should always switch off the windshield wipers in dry weather.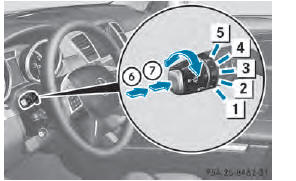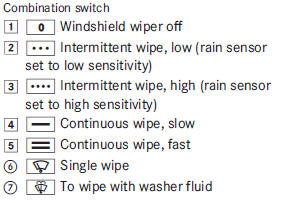 ■ Switch on the ignition.
■ Turn the combination switch to the corresponding position.
In the

or


position, the appropriate
wiping frequency is set automatically according to the intensity of the rain. In the

position, the rain sensor is
more sensitive than in the

position,
causing the windshield wipers to wipe more frequently.
If the wiper blades are worn, the windshield will no longer be wiped properly. This could prevent you from observing the traffic conditions. Replace the wiper blades twice a year, ideally in spring and fall.
See also:
Maintenance
The Service and Warranty Booklet describes all the necessary maintenance work which should be done at regular intervals. Always have the Service and Warranty Booklet with you when you bring the ...
Door control panel
1 Opens the door 2 Unlocks/locks the vehicle 3 Stores settings for the seat, exterior mirrors and steering wheel 4 Adjusts the seat electrically 5 Adjusts and folds the exterior mirrors ...
Jump-starting
For the jump-starting procedure, use only the jump-starting connection point, consisting of a positive terminal and an earth point, in the engine compartment. WARNING Battery acid is caustic. Ther ...