Control panel for dual-zone automatic climate control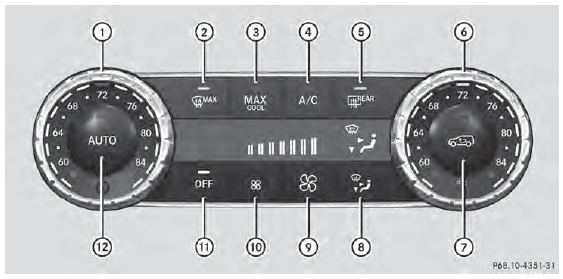 USA only
Front control panel
1 Sets the temperature, left 2 Defrosts the windshield 3 Switches maximum cooling on/off 4 Switches cooling with air dehumidification on/off 5 Switches the rear window defroster on/off 6 Sets the temperature, right 7 Activates/deactivates air-recirculation mode 8 Sets the air distribution 9 Increases the airflow 10 Reduces the airflow 11 Switches climate control on/off 12 Sets climate control to automatic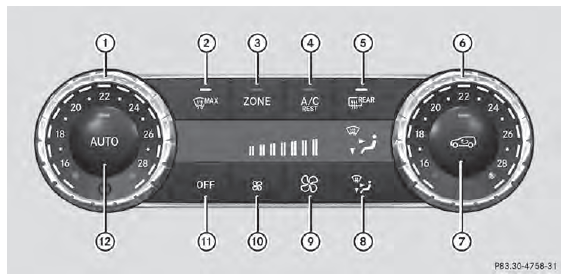 Canada only
Front control panel
1 Sets the temperature, left 2 Defrosts the windshield 3 Switches the ZONE function on/off 4 Activates/deactivates cooling with air dehumidification or activates/ deactivates the residual heating function 5 Switches the rear window defroster on/off 6 Sets the temperature, right 7 Activates/deactivates air-recirculation mode 8 Sets the air distribution 9 Increases the airflow 10 Reduces the airflow 11 Switches climate control on/off 12 Sets climate control to automatic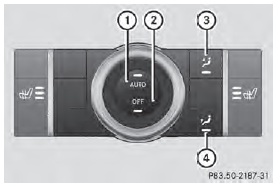 Rear control panel
1 Sets rear-compartment climate control to automatic 2 Switches rear-compartment climate control on/off 3 Directs the airflow through the rear air vents 4 Directs the airflow through the footwell vents
See also:
Hazard warning lamps
■ To switch on the hazard warning lamps: press button 1. All turn signals flash. If you now switch on a turn signal using the combination switch, only the turn signal lamp on the corres ...
Important safety notes
WARNING Only use fuses that have been approved for Mercedes-Benz vehicles and that have the correct fuse rating for the systems concerned. Do not attempt to repair or bridge faulty fuses. Using f ...
Loading guidelines
WARNING Always fasten items being carried as securely as possible. Use cargo tie-down rings and fastening materials appropriate for the weight and size of the load. In an accident, during hard b ...