Control panel for dual-zone automatic climate control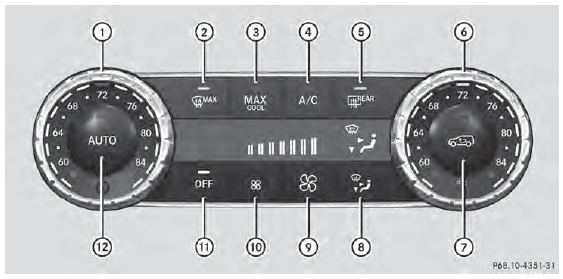 USA only
Front control panel
1 Sets the temperature, left 2 Defrosts the windshield 3 Switches maximum cooling on/off 4 Switches cooling with air dehumidification on/off 5 Switches the rear window defroster on/off 6 Sets the temperature, right 7 Activates/deactivates air-recirculation mode 8 Sets the air distribution 9 Increases the airflow 10 Reduces the airflow 11 Switches climate control on/off 12 Sets climate control to automatic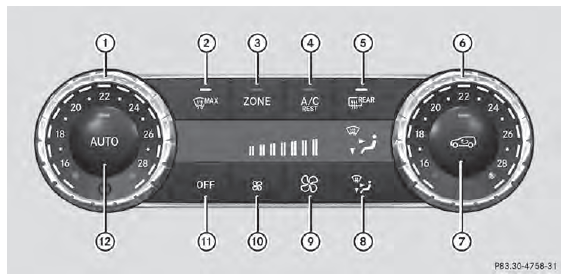 Canada only
Front control panel
1 Sets the temperature, left 2 Defrosts the windshield 3 Switches the ZONE function on/off 4 Activates/deactivates cooling with air dehumidification or activates/ deactivates the residual heating function 5 Switches the rear window defroster on/off 6 Sets the temperature, right 7 Activates/deactivates air-recirculation mode 8 Sets the air distribution 9 Increases the airflow 10 Reduces the airflow 11 Switches climate control on/off 12 Sets climate control to automatic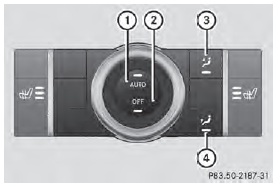 Rear control panel
1 Sets rear-compartment climate control to automatic 2 Switches rear-compartment climate control on/off 3 Directs the airflow through the rear air vents 4 Directs the airflow through the footwell vents
See also:
Tire pressure specifications
Important safety notes WARNING Underinflated or overinflated tires pose the following risks: Х the tires may burst, especially as the load and vehicle speed increase. Х the tires may wear excess ...
Hazard warning lamps
► To switch on the hazard warning lamps: press button 1. All turn signals flash. If you now switch on a turn signal using the combination switch, only the turn signal lamp on the corres ...
Driving safety systems overview
In this section, you will find information about the following driving safety systems: Х ABS (Anti-lock Braking System) Х BAS (Brake Assist System) Х Adaptive brake lamps Х ESPЃ (Electro ...