Control panel for dual-zone automatic climate control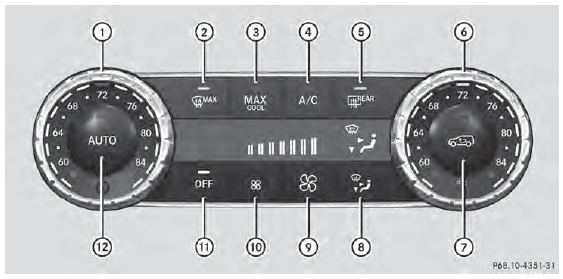 USA only
Front control panel
1 Sets the temperature, left 2 Defrosts the windshield 3 Switches maximum cooling on/off 4 Switches cooling with air dehumidification on/off 5 Switches the rear window defroster on/off 6 Sets the temperature, right 7 Activates/deactivates air-recirculation mode 8 Sets the air distribution 9 Increases the airflow 10 Reduces the airflow 11 Switches climate control on/off 12 Sets climate control to automatic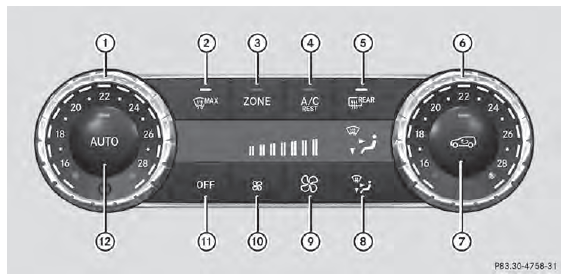 Canada only
Front control panel
1 Sets the temperature, left 2 Defrosts the windshield 3 Switches the ZONE function on/off 4 Activates/deactivates cooling with air dehumidification or activates/ deactivates the residual heating function 5 Switches the rear window defroster on/off 6 Sets the temperature, right 7 Activates/deactivates air-recirculation mode 8 Sets the air distribution 9 Increases the airflow 10 Reduces the airflow 11 Switches climate control on/off 12 Sets climate control to automatic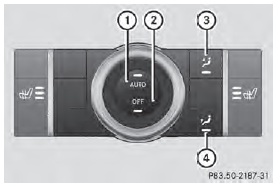 Rear control panel
1 Sets rear-compartment climate control to automatic 2 Switches rear-compartment climate control on/off 3 Directs the airflow through the rear air vents 4 Directs the airflow through the footwell vents
See also:
Sliding sunroof
Important safety notes Your vehicle may be equipped with a sliding sunroof or a panorama roof with power tilt/ sliding panel. In the following section, the term "sliding sunroof" refers ...
Restoring the factory settings
X Press the or button on the steering wheel to select the Sett. menu. ► Press the or button to select the Factory Setting submenu. ► Press to confirm. The Reset All Settings? ...
Recovering a vehicle that has become stuck
Pull away smoothly, slowly, and in a straight line when pulling out a vehicle that has become stuck. Excessive tractive power could damage the vehicles. If the drive wheels get trapped on loose or ...