Control panel for 3-zone automatic climate control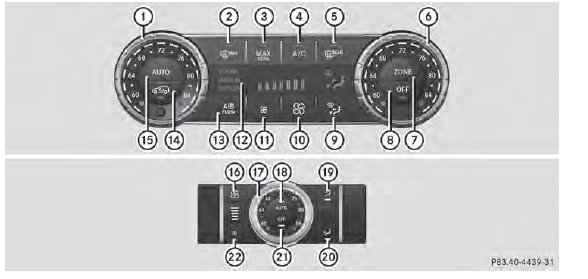 USA only
Front control panel
1 Sets the temperature, left 2 Defrosts the windshield 3 Switches maximum cooling on/off 4 Switches cooling with air dehumidification on/off 5 Switches the rear window defroster on/off 6 Sets the temperature, right 7 Switches the ZONE function on/off 8 Switches climate control on/off 9 Sets the air distribution 10 Increases the airflow 11 Reduces the airflow 12 Display
13 Adjusts the climate mode settings 14 Activates/deactivates air-recirculation mode 15 Sets climate control to automatic
Rear control panel
16 Increases the airflow 17 Sets the temperature 18 Sets rear-compartment climate control to automatic 19 Directs the airflow through the rear air vents 20 Directs the airflow through the footwell vents 21 Switches rear-compartment climate control on/off 22 Reduces the airflow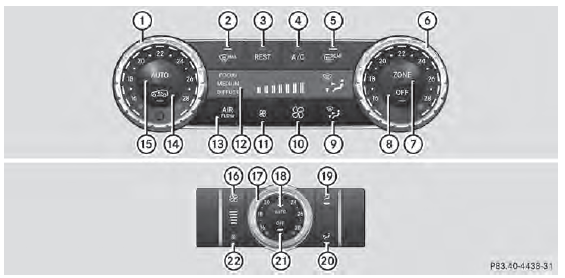 Canada only
Front control panel
1 Sets the temperature, left 2 Defrosts the windshield 3 Switches the residual heat function on/off 4 Switches cooling with air dehumidification on/off 5 Switches the rear window defroster on/off 6 Sets the temperature, right 7 Switches the ZONE function on/off 8 Switches climate control on/off 9 Sets the air distribution 10 Increases the airflow 11 Reduces the airflow 12 Display
13 Adjusts the climate mode settings 14 Activates/deactivates air-recirculation mode 15 Sets climate control to automatic
Rear control panel
16 Increases the airflow 17 Sets the temperature 18 Sets rear-compartment climate control to automatic 19 Directs the airflow through the rear air vents 20 Directs the airflow through the footwell vents 21 Switches rear-compartment climate control on/off 22 Reduces the airflow
See also:
Driving tips
Kickdown Use kickdown for maximum acceleration: ■ Depress the accelerator pedal beyond the pressure point. The transmission shifts to a lower gear depending on the engine speed. ■ ...
Useful information
This Operator's Manual describes all models and all standard and optional equipment of your vehicle available at the time of publication of the Operator's Manual. Country-specific differences are ...
General notes
Before you first drive off, read this Operator's Manual carefully and familiarize yourself with your vehicle. For your own safety and a longer vehicle life, follow the instructions and warning n ...