Control panel for 3-zone automatic climate control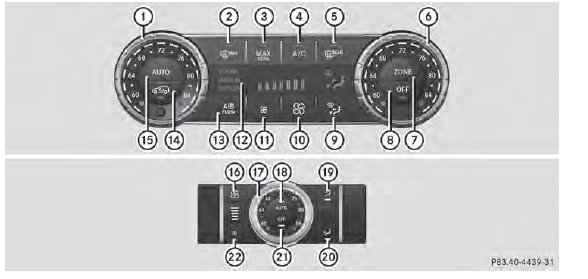 USA only
Front control panel
1 Sets the temperature, left 2 Defrosts the windshield 3 Switches maximum cooling on/off 4 Switches cooling with air dehumidification on/off 5 Switches the rear window defroster on/off 6 Sets the temperature, right 7 Switches the ZONE function on/off 8 Switches climate control on/off 9 Sets the air distribution 10 Increases the airflow 11 Reduces the airflow 12 Display
13 Adjusts the climate mode settings 14 Activates/deactivates air-recirculation mode 15 Sets climate control to automatic
Rear control panel
16 Increases the airflow 17 Sets the temperature 18 Sets rear-compartment climate control to automatic 19 Directs the airflow through the rear air vents 20 Directs the airflow through the footwell vents 21 Switches rear-compartment climate control on/off 22 Reduces the airflow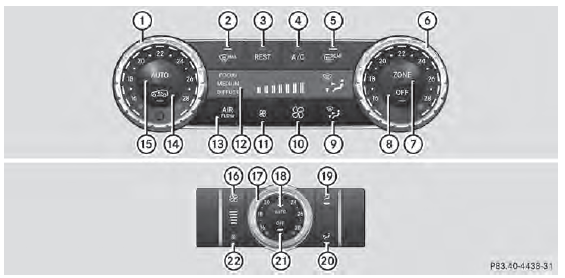 Canada only
Front control panel
1 Sets the temperature, left 2 Defrosts the windshield 3 Switches the residual heat function on/off 4 Switches cooling with air dehumidification on/off 5 Switches the rear window defroster on/off 6 Sets the temperature, right 7 Switches the ZONE function on/off 8 Switches climate control on/off 9 Sets the air distribution 10 Increases the airflow 11 Reduces the airflow 12 Display
13 Adjusts the climate mode settings 14 Activates/deactivates air-recirculation mode 15 Sets climate control to automatic
Rear control panel
16 Increases the airflow 17 Sets the temperature 18 Sets rear-compartment climate control to automatic 19 Directs the airflow through the rear air vents 20 Directs the airflow through the footwell vents 21 Switches rear-compartment climate control on/off 22 Reduces the airflow
See also:
ABS (Anti-lock Braking System)
Important safety notes Observe the "Important safety notes" section . WARNING If ABS is faulty, the wheels could lock when braking. The steerability and braking characteristics ma ...
Restoring the factory settings
► Press the and buttons simultaneously for approximately six seconds until battery check lamp 1 flashes twice. ...
Gnu compiler
Copyright © 1982, 1986 Regents of the University of California. All rights reserved. The Berkeley software License Agreement specifies the terms and conditions for redistribution. Redistribution ...