Setting the air distribution
Air distribution settings
Front control panel

Directs the airflow through the
center vents

Directs air through the footwell
air vents

Directs the airflow through the
center and footwell vents

Directs air through the
defroster vents

Directs the airflow through the
defroster and center vents (Canada only)

Directs air through the
defroster and footwell vents

Directs the airflow through the
defroster, center and footwell air vents (Canada only)
Rear control panel

Directs the airflow through the
rear center and rear side air vents

Directs air through the footwell
air vents
Using the rear control panel, you can also activate both air distribution positions simultaneously. In order to do this, press both air distribution buttons. The air is then routed through all rear air vents.
Regardless of the air distribution setting, airflow is always directed through the side air vents. The side air vents can only be closed when the controls on the side air vents are turned downwards.
Adjusting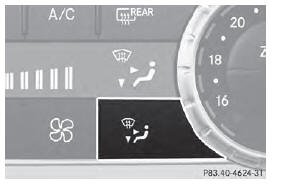 ■ Turn the SmartKey to position 2 in the ignition lock .
■ Press the

button repeatedly until
the desired symbol appears in the display.
See also:
General driving tips
Important safety notes WARNING Always remember that you must concentrate primarily on driving the vehicle. The driver's concentration must always be directed primarily at road traffic. For your o ...
Before changing a fuse
X Park the vehicle and apply the parking brake. ► Switch off all electrical consumers. ► Remove the SmartKey from the ignition lock. All indicator lamps in the instrument cluster m ...
ESP® (Electronic Stability Program)
General notes Observe the "Important safety notes" section . ESP® monitors driving stability and traction, i.e. power transmission between the tires and the road surface. If ESP ...