Setting the air distribution
Air distribution settings
Front control panel

Directs the airflow through the
center vents

Directs air through the footwell
air vents

Directs the airflow through the
center and footwell vents

Directs air through the
defroster vents

Directs the airflow through the
defroster and center vents (Canada only)

Directs air through the
defroster and footwell vents

Directs the airflow through the
defroster, center and footwell air vents (Canada only)
Rear control panel

Directs the airflow through the
rear center and rear side air vents

Directs air through the footwell
air vents
Using the rear control panel, you can also activate both air distribution positions simultaneously. In order to do this, press both air distribution buttons. The air is then routed through all rear air vents.
Regardless of the air distribution setting, airflow is always directed through the side air vents. The side air vents can only be closed when the controls on the side air vents are turned downwards.
Adjusting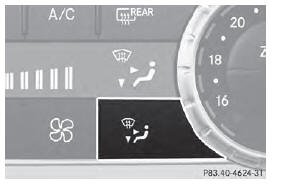 ■ Turn the SmartKey to position 2 in the ignition lock .
■ Press the

button repeatedly until
the desired symbol appears in the display.
See also:
Symbols
Registered trademarks: Х BluetoothЃ is a registered trademark of Bluetooth SIG Inc. Х DTS is a registered trademark of DTS, Inc. Х Dolby and MLP are registered trademarks of DOLBY Laboratories. ...
Roof carrier
WARNING Do not load items on the roof. It may cause instability during some maneuvers which could result in an accident. The roof is not suited for transporting loads. Never use roof rails or o ...
Important safety notes
WARNING Severe conditions (e.g. strong air pollution) may require replacement of the filter before its scheduled replacement interval. A clogged filter will reduce the air volume to the interior ...