Setting the air distribution
Air distribution settings
Front control panel

Directs the airflow through the
center vents

Directs air through the footwell
air vents

Directs the airflow through the
center and footwell vents

Directs air through the
defroster vents

Directs the airflow through the
defroster and center vents (Canada only)

Directs air through the
defroster and footwell vents

Directs the airflow through the
defroster, center and footwell air vents (Canada only)
Rear control panel

Directs the airflow through the
rear center and rear side air vents

Directs air through the footwell
air vents
Using the rear control panel, you can also activate both air distribution positions simultaneously. In order to do this, press both air distribution buttons. The air is then routed through all rear air vents.
Regardless of the air distribution setting, airflow is always directed through the side air vents. The side air vents can only be closed when the controls on the side air vents are turned downwards.
Adjusting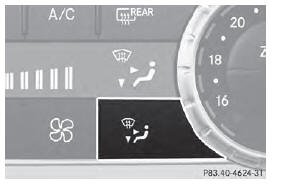 ■ Turn the SmartKey to position 2 in the ignition lock .
■ Press the

button repeatedly until
the desired symbol appears in the display.
See also:
Traveling uphill
Approach/departure angle WARNING If you drive on a steep incline at an angle or turn when driving on an incline, the vehicle could slip sideways, tip and rollover. There is a risk of an accident. ...
Correct use
If you remove any warning stickers, you or others could fail to recognize certain dangers. Leave warning stickers in position. Observe the following information when driving your vehicle: • t ...
Engine oil
General notes Never use engine oil or an oil filter of a specification other than is necessary to fulfill the prescribed service intervals. Do not change the engine oil or oil filter in order to ...