Program selector button
General notes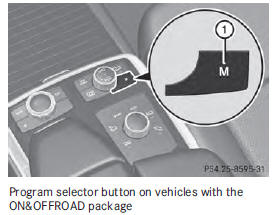 ■ Briefly press program selector button 1.
The letter M appears in the multifunction display. The manual drive program M is activated.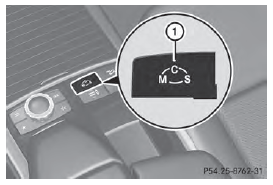 Program selector button on AMG vehicles
■ Press program selector button 1 repeatedly until the letter for the desired gearshift program appears in the multifunction display.
The program selector button allows you to choose between different driving characteristics.
AMG vehicles
: the automatic transmission switches to automatic drive program C each time the engine is started.
Drive program M is not saved after the engine has been switched off. If required, you must select the drive program again after starting the engine.
Drive programs on AMG vehicles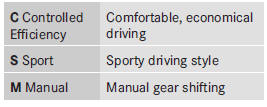 For further information on the automatic drive program, see .
Steering wheel paddle shifters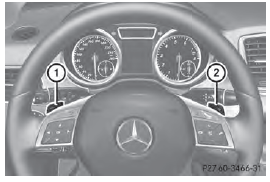 In the automatic drive program, you can restrict or derestrict the shift range by using steering wheel paddle shifters 1 and 2 .
In the manual drive program you can change gears manually using steering wheel paddle shifters 1 and 2 .
You can only change gear with the steering wheel paddle shifters when the transmission is in position D.
See also:
Permissible trailer loads and drawbar loads
Weight specifications Maximum permissible gross vehicle weight rating The gross trailer weight is calculated by adding the weight of the trailer to the weight of the load and equipment on the tra ...
Power closing feature
Power closing pulls the doors and trunk lid into their locks automatically even if they are only partly closed. ■ To power-close a door: push the door into the lock up to the first detent po ...
Occupant Classification System (OCS)
Method of operation WARNING If the indicator lamp illuminates when an adult or someone larger than a small individual is in the front passenger seat, have the front passenger reposition himself ...