Program selector button
General notes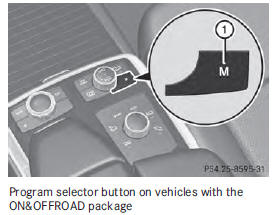 ■ Briefly press program selector button 1.
The letter M appears in the multifunction display. The manual drive program M is activated.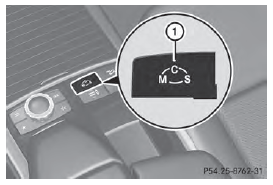 Program selector button on AMG vehicles
■ Press program selector button 1 repeatedly until the letter for the desired gearshift program appears in the multifunction display.
The program selector button allows you to choose between different driving characteristics.
AMG vehicles
: the automatic transmission switches to automatic drive program C each time the engine is started.
Drive program M is not saved after the engine has been switched off. If required, you must select the drive program again after starting the engine.
Drive programs on AMG vehicles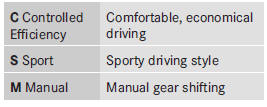 For further information on the automatic drive program, see .
Steering wheel paddle shifters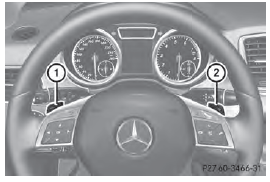 In the automatic drive program, you can restrict or derestrict the shift range by using steering wheel paddle shifters 1 and 2 .
In the manual drive program you can change gears manually using steering wheel paddle shifters 1 and 2 .
You can only change gear with the steering wheel paddle shifters when the transmission is in position D.
See also:
Air bags
Important safety notes WARNING Air bags are designed to reduce the incidence of injuries and fatalities in certain situations: • frontal impacts (driver's and frontpassenger front air bags and dr ...
Audio menu
Selecting a radio station 1 Waveband 2 Station frequency with memory position Station 2 is displayed with the station frequency or station name. The memory position is only displayed along with ...
Important safety notes
WARNING If wheels and tires of the wrong size are used, the wheel brakes or suspension components may be damaged. There is a risk of an accident. Always replace wheels and tires with those that ...