Instrument cluster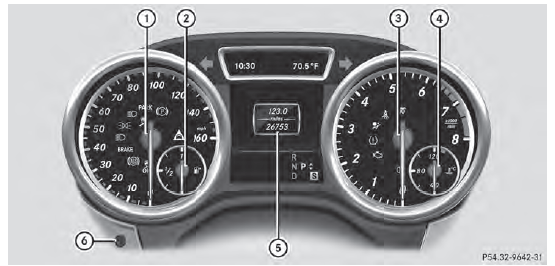 Instrument cluster: miles
1 Speedometer with segments 2 Fuel gauge
3 Tachometer
4 Coolant temperature 5 Multifunction display 6 Instrument cluster lighting
Instrument cluster lighting
The lighting in the instrument cluster, in the displays and the controls in the vehicle interior can be adjusted using the brightness control knob.
The brightness control knob is located on the bottom left of the instrument cluster .
■ Turn the brightness control knob clockwise or counter-clockwise.
If the light switch is set to

,


or


, the brightness is dependent upon
the brightness of the ambient light.
The light sensor in the instrument cluster automatically controls the brightness of the multifunction display.
In daylight, the displays in the instrument cluster are not illuminated.
Coolant temperature display
WARNING
Driving when your engine is overheated can cause some fluids which may have leaked into the engine compartment to catch fire. You could be seriously burned.
Steam from an overheated engine can cause serious burns which can occur just by opening the engine hood. Stay away from the engine if you see or hear steam coming from it.
Stop the vehicle in a safe location away from other traffic. Turn off the engine, get out of the vehicle and do not stand near the vehicle until the engine has cooled down.
A display message is shown if the coolant temperature is too high.
If the coolant temperature is over 248

(120


), do not continue driving. The
engine will otherwise be damaged.
The coolant temperature gauge is in the instrument cluster on the right-hand side .
Under normal operating conditions and with the specified coolant level, the coolant temperature may rise to 248

(120


).
Tachometer
Do not drive in the overrevving range, as this could damage the engine.
The red band in the tachometer indicates the engine's overrevving range.
The fuel supply is interrupted to protect the engine when the red band is reached.
Outside temperature display
You should pay special attention to road conditions when temperatures are around freezing point.
The outside temperature display is in the multifunction display .
Changes in the outside temperature are displayed after a short delay.
Speedometer with segments
The segments in the speedometer indicate which speed range is available.
Х Cruise control activated : The segments light up from the stored speed to the maximum speed.
Х DISTRONIC PLUS activated : One or two segments in the set speed range light up.
Х DISTRONIC PLUS detects a vehicle in front: The segments between the speed of the vehicle in front and the stored speed light up.
See also:
SRS (Supplemental Restraint System)
Introduction SRS consists of: Х SRS warning lamp Х Air bags Х The air bag control unit with crash sensors Х Emergency Tensioning Devices for the front seat belts and the outer seat belts in the ...
Useful information
This Operator's Manual describes all models and all standard and optional equipment of your vehicle available at the time of publication of the Operator's Manual. Country-specific differences are ...
BAS PLUS (Brake Assist System PLUS)
Observe the "Important safety notes" section . BAS PLUS is only available in vehicles equipped with DISTRONIC PLUS. For BAS PLUS to assist you when driving, the radar sensor syst ...