Cargo compartment enlargement
Important safety notes
WARNING
If the rear bench seat/rear seat and seat backrest are not engaged they could fold forwards, e.g. when braking suddenly or in the event of an accident.
Х The vehicle occupant would thereby be pushed into the seat belt by the rear bench seat/rear seat or by the seat backrest. The seat belt can no longer offer the intended level of protection and could even cause injuries.
Х Objects or loads in the trunk/cargo compartment cannot be restrained by the seat backrest.
There is an increased risk of injury.
Before every trip, make sure that the seat backrests and the rear bench seat/rear seat are engaged.
Release and fold the seat cushion upwards before folding the rear bench seat forward. Otherwise, the backrests may be damaged.
When the backrest is folded forwards, the front seats cannot be moved to their rearmost position. Otherwise, the front seats and the rear bench seat could be damaged.
Observe the loading guidelines .
The left-hand and right-hand backrests in the second row of seats can be folded forwards separately to increase the cargo compartment capacity.
On vehicles with a 3rd row of seats, you must fold down the 3rd row of seats beforehand to obtain maximum cargo compartment enlargement.
Folding the rear bench seat forwards
The backrest is heavy. Therefore, take care when folding it down. Make sure that the head restraints are pushed all the way in so that the backrests and seat cushions are not damaged.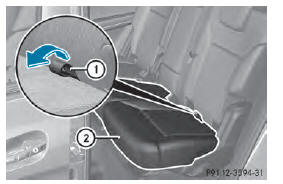 If the driver's or front-passenger seat is set for a larger person, it may not be possible to fold the rear bench seat forwards. In this case, move the front seats as far forward as possible.
■ Move the head restraints to the lowest position .
■ Pull release loop 1 of seat cushion 2.
■ Fold seat cushion 2 upwards.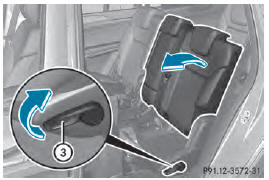 ■ Pull release handle 3 in the direction of the arrow.
The backrest is released.
■ Fold the backrest forwards until it reaches the cargo compartment position.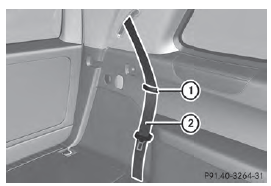 ■ Guide seat belts 2 under respective clips 1.
Folding the rear bench seat back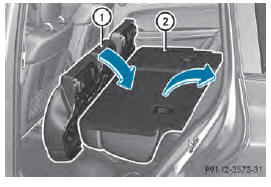 ■ Fold seat backrest 2 back until it engages.
Make sure not to trap the seat belt while doing so.
■ Swing seat cushion 1 back.
■ Pull up and adjust the head restraints if necessary .
See also:
Parking the vehicle for a long period
If you leave the vehicle parked for longer than four weeks, the battery may be damaged by exhaustive discharge. ► Connecting a trickle charger. You can obtain information about trickle ...
Checking the tire pressures
Important safety notes Observe the notes on tire pressure . Information on air pressure for the tires on your vehicle can be found: Х on the vehicle's Tire and Loading Information placard ...
Washer fluid
Important safety notes WARNING Windshield washer concentrate is highly flammable. If it comes into contact with hot engine components or the exhaust system it could ignite. There is a risk of fir ...