Cargo compartment cover
Important safety notes
WARNING
On its own, the cargo compartment cover cannot secure or restrain heavy objects, items of luggage and heavy loads. You could be hit by an unsecured load during sudden changes in direction, braking or in the event of an accident. There is an increased risk of injury or even fatal injury.
Always store objects so that they cannot be flung around. Secure objects, luggage or loads against slipping or tipping over, e.g. by using tie downs, even if you are using the cargo compartment cover.
When loading the vehicle, make sure that you do not stack the load in the cargo compartment higher than the lower edge of the side windows. Do not place heavy objects on top of the cargo compartment cover.
The cargo compartment cover may be installed behind the 2nd or 3rd row of seats.
Extending/retracting the cargo compartment cover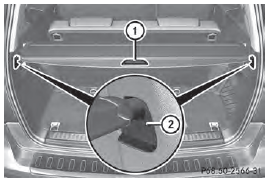 ■ To extend: pull the cargo compartment cover back by grab handle 1 and clip it into retainers 2 on the left and right.
■ To retract: unhook the cargo compartment cover from left-hand and right-hand retainers 2.
■ Guide cargo compartment cover forwards by grab handle 1 until it is completely rolled up.
Coat hooks on the tailgate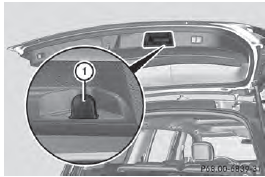 1 Coat hook
Stowage well under the cargo compartment floor
WARNING
If you drive when the cargo compartment floor is open, objects could be flung around, thus striking vehicle occupants. There is a risk of injury, particularly in the event of sudden braking or a sudden change in direction.
Always close the cargo compartment floor before a journey.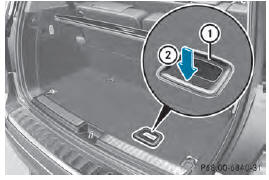 The TIREFIT kit, tire-change tool kit, etc. are located in the stowage compartment.
■ To open: holding the ribbing, press handle 1 downwards 2.
Handle 1 folds up.
■ Swing the cargo compartment floor upwards using handle 1 until it rests against the cargo compartment cover.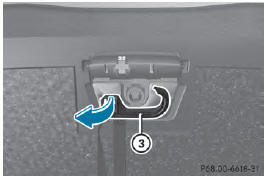 ■ Fold out hook 3 on the underside of the cargo compartment floor in the direction of the arrow.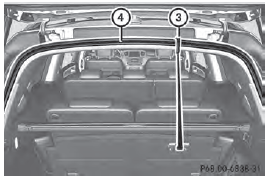 ■ Attach hook 3 to the cargo compartment's upper seal 4.
■ To close: detach hook 3 from the cargo compartment's upper seal 4.
■ Fasten hook 3 to the bracket on the underside of the cargo compartment floor.
■ Fold the trunk floor down.
■ Press the cargo compartment floor down 2 until it engages.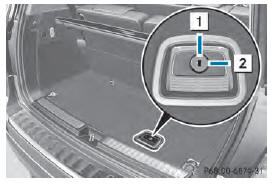 1 Cargo compartment floor unlocked 2 Cargo compartment floor locked The cargo compartment floor can be locked and unlocked using the mechanical key.
See also:
Tire pressure loss warning system (Canada only)
General notes While the vehicle is in motion, the tire pressure loss warning system monitors the set tire pressure using the rotational speed of the wheels. This enables the system to detect sign ...
Opening and closing the side windows
The switches for all side windows are located on the driver's door. There is also a switch on each door for the corresponding side window. The switches on the driver's door take precedence. 1 ...
Technical data
"Minispare" emergency spare wheel ...