Additional service products
Checking coolant level
WARNING
The engine cooling system is pressurized, particularly when the engine is warm. When opening the cap, you could be scalded by hot coolant spraying out. There is a risk of injury.
Let the engine cool down before opening the cap. Wear eye and hand protection when opening the cap. Open the cap slowly half a turn to allow pressure to escape.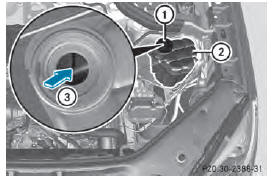 ■ Park the vehicle on a level surface.
Only check the coolant level when the vehicle is on a level surface and the engine has cooled down.
■ Turn the SmartKey to position 2 in the ignition lock .
On vehicles with KEYLESS-GO, press the Start/Stop button twice .
■ Check the coolant temperature gauge in the multifunction display.
The coolant temperature must be below 158

(70


).

■ Turn the SmartKey to position 0 in the ignition lock.
■ Slowly turn cap 1 half a turn counterclockwise to allow excess pressure to escape.
■ Turn cap 1 further counter-clockwise and remove it.
If the coolant is at the level of marker bar 3 in the filler neck when cold, there is enough coolant in coolant expansion tank 2.
If the coolant level is approximately 0.6 in (1.5 cm) above marker bar 3 in the fuel filler neck when warm, there is enough coolant in expansion tank 2.
■ If necessary, add coolant that has been tested and approved by Mercedes-Benz.
■ Replace cap 1 and turn it clockwise as far as it will go.
For further information on coolant, see .
Adding washer fluid to the windshield washer system/headlamp cleaning system
WARNING
Windshield washer concentrate is highly flammable. If it comes into contact with hot engine components or the exhaust system it could ignite. There is a risk of fire and injury.
Make sure that no windshield washer concentrate is spilled next to the filler neck.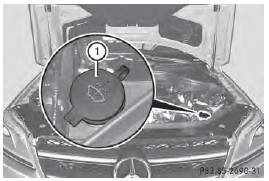 Example: washer fluid reservoir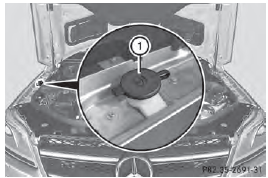 Example: washer fluid reservoir in AMG vehicles
■ To open: pull cap 1 upwards by the tab.
■ Add the premixed washer fluid.
■ To close: press cap 1 onto the filler neck until it engages.
The washer fluid reservoir is used for both the windshield washer system and the headlamp cleaning system.
Further information on windshield washer fluid/antifreeze .
See also:
Mbrace
Important safety notes You must have a license agreement to activate the mbrace service. Ensure that your system is activated and ready for use, and press the MB Info call button to register. If ...
Notes on towing a trailer
Important safety notes WARNING If you install a ball coupling other than the one delivered with the vehicle, the trailer tow hitch and the rear axle may be overloaded. This applies especially if ...
Switching climate control on/off
Points to observe before use When the climate control is switched off, the air supply and air circulation are also switched off. The windows could fog up. Therefore, switch off climate control o ...